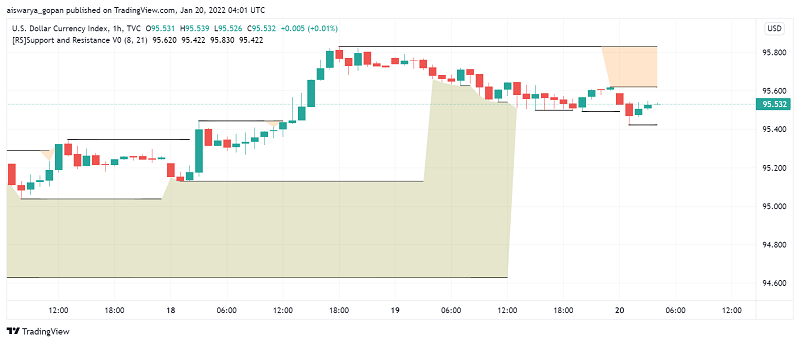 US Dollar Steadies as Investors Eye Riskier Currencies
The US dollar is trading somewhat steady after the rally in US Treasury yields takes a breather while commodity currencies come back in favor amid soaring oil prices. At the time of writing, the US dollar index DXY is trading at around 95.53.
The ongoing rally in crude oil has helped the Canadian dollar to touch the highest levels seen in 10 weeks against the greenback. The return of risk appetite in global markets has also helped another key commodity currency AUD strengthen by 0.5% against the USD on Thursday.
The risk-on sentiment received further reinforcement as traders adjust their outlook regarding the Omicron variant. Despite several nations recording a high caseload, the severity of infections remains lower than what was seen in previous waves of the pandemic, keeping the economic outlook on track.
This in turn has kept traders away from the safe haven US dollar and interested in trading riskier currencies in the forex market instead. Several countries have started easing restrictions and curbs despite the spread of infections, which can help economic activity rebound faster than in the previous months.
US Treasury yields have been rising in recent sessions, with the benchmark 10-year US Treasury yields surging to the highest levels seen in two years during the previous session before easing lower. However, the appeal of US bond yields is taking a hit as bond yields in other countries also start rising and supporting other currencies, especially in Europe and the UK.