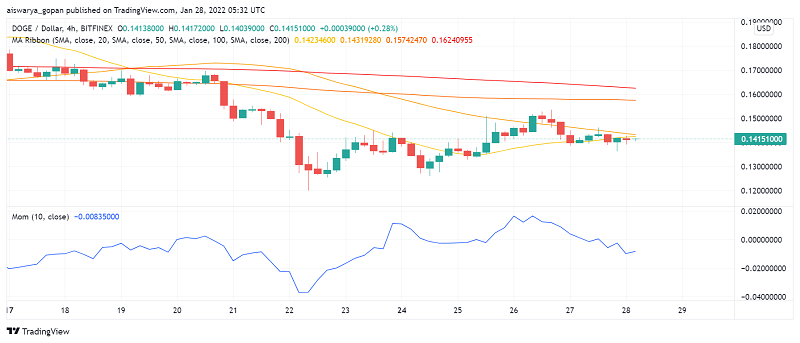 DOGE Price Analysis: Can Interest Among Burger Brands Drive Dogecoin Higher?
Dogecoin (DOGE) is trading choppy into Friday, weighed down by the overall market sentiment which firmly remains in the bear territory, but supported by rising social sentiment in recent sessions. At the time of writing, DOGE/USD is trading at around $0.141.
The world's most popular memecoin now sits on the 10th position in terms of market cap amid a rout in the wider crypto sector that has caused significant losses to several leading altcoins' value. However, in comparison, DOGE has incurred far smaller, single digit losses, helping it improve its rankings.
Earlier this week, Dogecoin received quite a bit of interest thanks to Dogefather Elon Musk campaigning McDonald's to start accepting the crypto as a payment method. Musk tweeted that he would eat a Happy Meal on TV if the fast food giant started accepting payments in DOGE.
While the tweet did go viral and spur considerable interest in the memecoin despite the sluggish moves in the overall crypto market, McDonald's has so far failed to accept, stating that they will do so if Musk's company Tesla started accepting Grimacecoin as a payment method – a non-existent coin based on a character from McDonald's ads. However, not all hope is lost as the campaign did find a taker in Mr Beast Burger – a delivery-only fast food chain, which has agreed to accept DOGE as payment if he retweets their post.
The social sentiment of Dogecoin remains high thanks to Musk's latest tweet, which also caught the attention of another major Bernardspharmacy.com business – Burger King. The crypto savvy burger brand responded to the tweet, "Only a king knows what da coin do", while its UK arm also jumped in to share their thoughts.
With Dogecoin seeing renewed interest in social media, it is likely that it could attract more buyers in the hope that it would gain more acceptance among businesses as a payment method. However, with investors still wary about buying into cryptos at the moment, the campaign failed to drive much gains in DOGE.
DOGE/USD Technical Analysis
Technical analysis of the H4 price chart of DOGE/USD reveals a bearish bias among most of the moving averages as well as the MACD. However, the momentum indicator is showing some buying interest in the market too.
Dogecoin's price is holding just under the pivot point at $0.146 but well above the immediate support at $0.115. Let's see if we can find more buyers getting in during weekend trading to take DOGE past the PP soon.