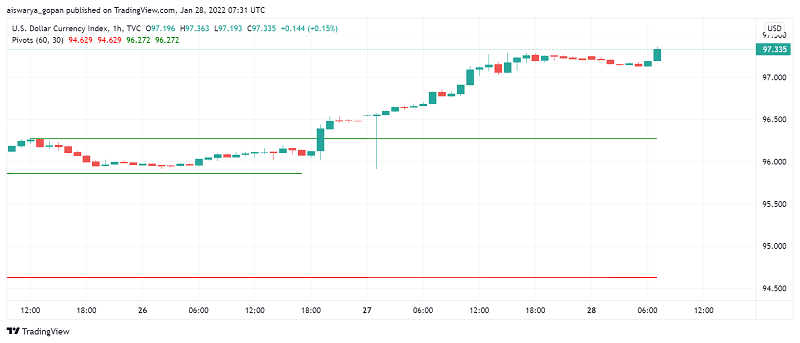 US Dollar All Set For Strong Weekly Performance After Fed Talks Rate Hikes
The US dollar is all set to end the week on a high note, bouncing back following hawkish statements from the Fed following the conclusion of the most recent FOMC earlier this week. At the time of writing, the US dollar index DXY is trading around 97.33.
The dollar index has crossed the key 97 mark for the first time in nearly 18 months after Fed Chair Powell hinted that the US economy would need at multiple rate hikes to offset the effects of surging inflation. His comments have markets anticipating at least five rate hikes in 2022, in addition to faster monetary tightening measures as the US economy posts a rapid recovery from the coronavirus crisis.
So far this week, the US dollar has strengthened by 1.7% against the common currency, supported not only by the Fed's hawkish interests but also rising safe haven appeal amid worries about a possible Russia-Ukraine military conflict. Meanwhile, GBP/USD is trading close to the lowest levels seen in one month, although losses remain limited over rising expectations that the BOE could announce a rate hike as soon as next week.
There are also expectations that the ECB and RBA meetings scheduled in the coming week could offer some aggressive outlook, which could dent the current rally in the US dollar. If other major central banks also start adopting hawkish tones, the effect of Fed's rate hikes will lose some sheen and other buyvaliumonline.com currencies could gain against the greenback.
Analysts foresee emerging market currencies to be among the strongest performers in H2 2022, as countries emerge from the COVID-19 crisis and bounce back. The focus will then shift from central banks tightening their monetary policies to economic rebounds happening all over the world.