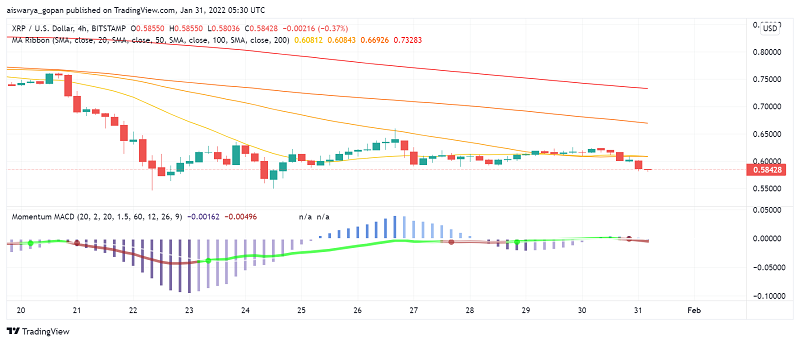 Ripple's XRP Slides Under $0.60. What's Next?
Ripple's XRP continues to move in a downtrend into Monday, amid the ongoing rout in the crypto market keeping buyers away even as investors worry about the delay in the SEC lawsuit. At the time of writing, XRP/USD is trading at around $0.584.
Despite the extended bearish mood, the XRP remains within the top 10 list of cryptos by market cap. However, unlike most of its peers, its recent weak price action is the result not only of the overall market sentiment but also on account of uncertainties surrounding its outlook, due to the SEC vs. Ripple case.
There was some cheer last week after Ripple announced a buyback of $200 million worth of shares and confirmed plans to take the company public at the end of the lawsuit. This indicates strong optimism that the lawsuit will fail to dent the company's future prospects, supporting investor confidence in the XRP cryptocurrency.
After posting a strong performance through the previous year, Ripple has plans to diversify its interests this year. In addition to boosting the capabilities of its blockchain, the XRP Ledger (XRPL), there are also discussions underway with its On-Demand Liquidity (ODL) partners to further enhance the network.
Can Latest Fundamentals Prevent Further Losses in Ripple's XRP?
In more supporting news, UAE-based money transfer firm Al Fardan Exchange recently announced a partnership with Ripple to leverage the Ripplenet for faster and more efficient cross-border transactions. This is the latest in a long line of Stromectol partnerships developed across the Middle East for Ripple, powering remittances.
The XRP could also receive some interest after cross-chain bridge Allbridge announced support for its blockchain last week. This will allow seamless transfer of XRP across 11 other leading blockchain ecosystems, including Ethereum, Binance Smart Chain, Solana, Terra, and more.
XRP/USD Technical Analysis
Ripple's XRP has slid under the key $0.60 level earlier in the session. Technical analysis of the H4 price chart of XRP/USD shows a strong bearish bias among moving averages and leading technical indicators MACD and momentum.
The cryptocurrency's price is trading under the pivot point at $0.603, although it manages to hold above the immediate support at $0.547. However, a buildup of selling pressure could see the support being tested in the near term, so let's keep an eye on it.