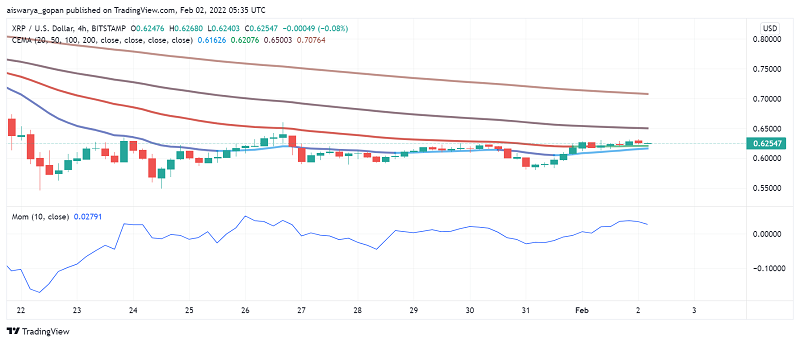 XRP Back Above $0.60 Level After Ripple's Latest Partnership Announcement
Ripple's XRP has bounced back above the $0.60 level and seems to be making its way higher, powered by some interesting fundamentals and a slight improvement in the overall market sentiment in recent sessions. At the time of writing, XRP/USD is trading at around $0.625.
On the lawsuit front, several observers believe that the SEC's latest motion citing supplementary authority to take on Ripple's fair notice defense is a promising sign that the company could experience a legal victory. The agency cited a previous case, SEC vs. Keener, to demonstrate how Ripple should have registered as a securities dealer before the lawsuit happened.
It's not just the XRP Army that is rallying and hoping for the case to go in Ripple's favor. A win for the company would offer more regulatory clarity for the entire industry. On the other hand, a win for the SEC could empower it to go after more crypto companies with the same logic, deeming tokens as unregistered securities.
Ripple Partners With Modulr Finance, Eyes Expansion Into UK, Europe
Meanwhile, notwithstanding these legal woes, Ripple is busy turning its focus towards the UK and Europe, forming a strategic partnership with Modulr Finance. The development will enable both fintech leaders to offer more efficient payments into UK and Europe from Asia Pacific, Latin America, Middle East and North America.
According to CEO and Founder at Modulr, Myles Stephenson, "We're excited to partner with Ripple – we share the same fundamental goal which is to make it easy to send and control global business payment flows by removing the hidden inefficiencies plaguing international payments today. This partnership lays the groundwork for even bigger things to come."
XRP/USD Technical Analysis
Technical analysis of the 4-hour chart of XRP/USD reveals a bullish bias among smaller and medium moving averages as well as the MACD. Although, the 100 EMA, 200 EMA and momentum indicator point to some interest among sellers in the market.
Ripple's XRP is trading above the pivot point at $0.603 and looks like it is experiencing some consolidation under the immediate support at $0.658. Let's see if the bullish mood in the crypto market can help build up buying pressure to take out this resistance soon.