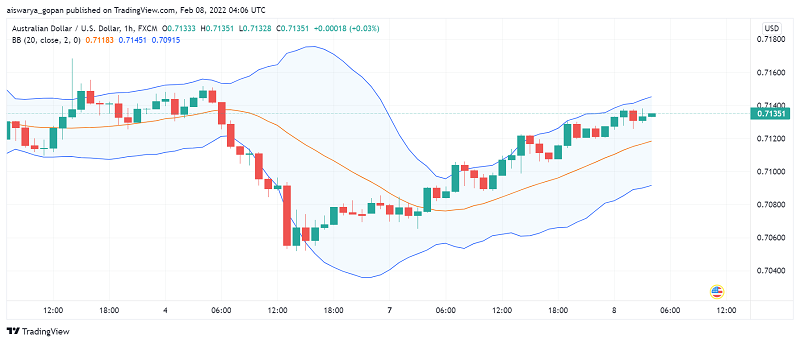 AUD/USD Sees Some Gains as Markets Turn Risk-on
A risk-on mood in global financial markets has helped commodity currency AUD rally against the USD early on Tuesday, extending its gains from the previous session and reclaim the $0.71 level. At the time of writing, AUD/USD is trading around $0.713.
On Monday, the AUD/USD currency pair strengthened by 0.7% as traders' risk appetite returned and commodity prices rallied higher. However, gains in the risk sensitive currency pair could be limited by RBA's hesitation to adopt a hawkish stance even as the Fed hints at aggressive monetary tightening and rate hike plans for the coming months.
Despite inflation soaring high in Australia, the RBA continues to downplay its effects on the economy, maintaining that rate hikes could take longer. The uncertain outlook due to the pandemic is the key driver keeping the Aussie central bank convinced about remaining accommodative for longer, even though several of its peers around the world have started making or are considering hawkish moves.
AUD/USD also finds support from the Australian government's decision to reopen its borders to vaccinated tourists from February 21. This is the first time since the beginning of the pandemic that the nation will allow international tourists to enter, promising a boost for the economy.
However, the upside in AUD/USD could face some pressure after the NAB's measure of business conditions revealed a decline in sentiment. Business confidence fell from +8 in December to +3 in January due to the Omicron variant even as firms turned less optimistic about sales and profitability.