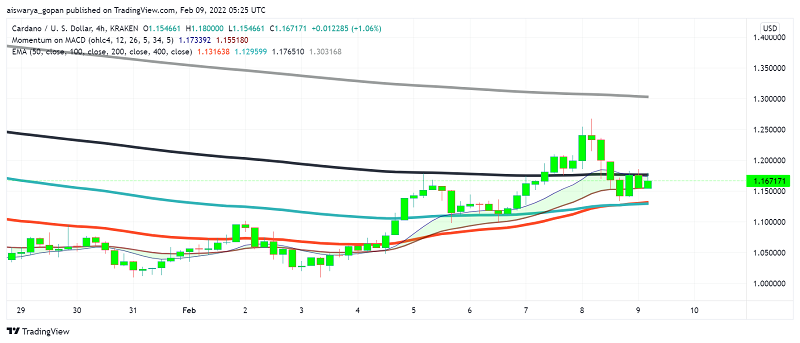 Cardano (ADA) Makes Weak Gains But Feels Some Pressure
Cardano (ADA) looks like it is attempting to shake off the bearish pressure altcoins have been experiencing lately and making its way higher, with buying confidence receiving a boost from some fundamentals. At the time of writing, ADA/USD is trading at around $1.16.
Fundamentals Support Buying Interest in ADA
One of the biggest updates powering buying interest in ADA is the steady increase in the number of transactions on the Cardano blockchain. Ever since dApps started going live on its ecosystem, the transaction numbers have grown past 30 million, rising by over four million in the past one month alone. Higher on-chain activity keeps the value of the ADA token supported and is one of the major contributors to the gains.
Another interesting development that can increase investor interest in the ADA token is its BitOasis listing. As one of the leading crypto trading platforms in the Middle East and North Africa, BitOasis listing Cardano earlier this week can spur interest in the cryptocurrency among a large number of traders in the coming days and weeks.
Cardano is also gearing up to take on Ethereum in the NFT space, boasting over 100,000 NFTs on various marketplaces within its ecosystem in a matter of a few months. The stellar growth in its popularity has been attributed to its more efficient transaction processing capabilities and environment friendly status among blockchains – key factors that can power more growth of the blockchain as an attractive destination for NFTs.
According to the most recent report from CoinShares, Cardano enjoyed institutional inflows worth $1.1 million over the previous week. This indicates strong interest in the cryptocurrency among institutional investors, which could keep ADA as an attractive digital asset worth investing in even among retail traders.
3air Drops Cardano Plans
However, there could be some downside pressure on ADA after blockchain internet company 3air ditched Cardano for SKALE – a network powered by Ethereum. The company took this decision due to a shortage of Haskell developers – the programming language for the Cardano network.
ADA/USD Technical Analysis
On the H4 chart of ADA/USD, moving averages suggest a strong bearish bias. However, leading technical indicators MACD and momentum point to some buying interest in the market too.
Cardano's price remains under the pivot point at $1.20, although well above the immediate support at $0.77. Let's see if more buyers jump in and manage to test the PP soon.