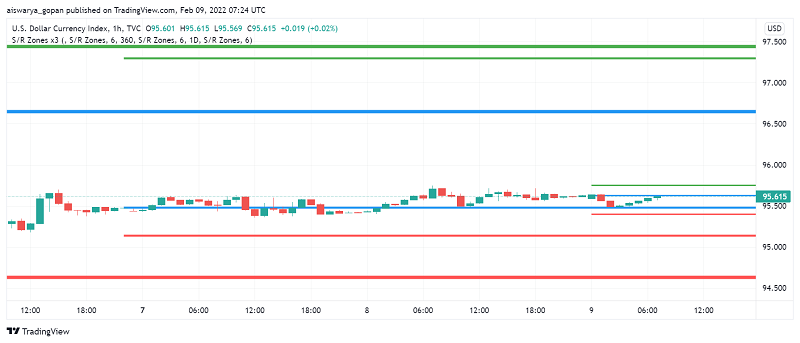 US Dollar Trades Bullish as Markets Hope For Strong CPI Report Today
Early on Wednesday, the US dollar has surged to the highest levels seen since one month against safe haven Japanese yen as US Treasury yields continue their uptick ahead of the release of the all-important inflation data from the US later today. At the time of writing, the US dollar index DXY is trading around 95.61.
The benchmark 10-year US Treasury yields soared to a high of 1.97% last seen in November 2019, well before the pandemic, during the previous session. Higher bond yields make the US currency more attractive among investors, especially against the JPY as Japan's government bond yields remain close to zero in contrast.
The CPI report due to release today will shed more light on the pace of monetary tightening the Fed has planned for the year. While expectations are high for a 50bp rate hike next month on account of the positive NFP report, there is still considerable uncertainty on what will follow in the coming months.
If the inflation report also beats forecasts today, investors will turn more hopeful of the Fed speeding up monetary tightening measures in the coming months. This, in turn, could power a stronger rally in the US dollar in the near term.
Meanwhile, EUR/USD is continuing its downslide after soaring to the highest levels seen in three months. The bearish moves came on the back of ECB President Christine Lagarde downplaying her hawkish statements from last week, diminishing hopes for a hawkish move anytime soon in Europe.