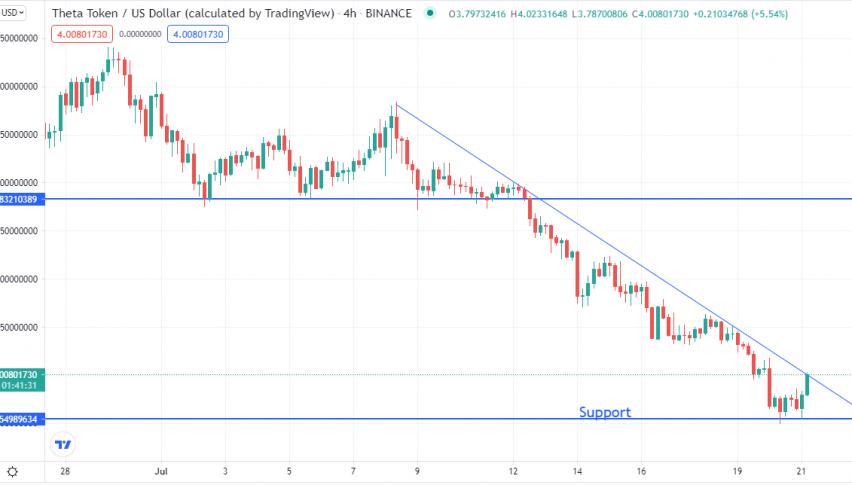 Did Bear Market Push Theta (THETA) off a Cliff?
Cryptocurrency coin Theta Network (THETA) is down today by 9.24%. Much of the cryptocurrency market is suffering today, going through a bearish trend headlined by Bitcoin's (BTC) 4.53% drop to $23,050 (BTC/USD).
Bitcoin is pulling down a lot of the other crypto coins with it, with Ethereum (ETH) dropping 6.57% and XRP (XRP) falling 5.22%. Did today's drop among the major market players cause Theta to fall as well or are their other factors contributing to its substantial bear red right now?
Theta Falls from Grace
The crypto coin Theta is down to $1.51 (THETA/USD) today, after hitting $1.70 just a couple days ago. That is the highest we have seen Theta climb since May of this year, so it was quite an achievement. And now it all seems to be coming apart. We saw Theta move from $1.16 late last month to an impressive increase of 46%. That's one of the better success stories in recent weeks.
We had high hopes that Theta was out of the woods and headed toward a full recovery from May's drop, but that obviously hasn't happened yet. Back in May, Theta had managed to reach $2.59 briefly before it plummeted.
Theta has mostly gone downhill since the start of the year, so investors get their hopes up every time the bull trends start.
What Caused Theta's Drop Today?
Back to the question of why Theta fell off the cliff today, it seems obvious that Bitcoin's drop had something to do with that. What we have seen from Theta, however, is that it may move with Bitcoin somewhat, but there is no telling how drastically it will move. If Bitcoin moves 5%, Theta may move 9%, like it did today. So, that kind of action is not unexpected.
It makes Theta hard to predict, as there is obviously a marketplace connection driving the prices up and down, but Theta also has some momentum of its own. Today's trade volume is at nearly $99 million over 24 hours. That's a trade volume decrease of 13.76% as Theta holds on to its #40 ranking on the crypto market. Like much of the market, Theta's rate is affected by inflation, conflict in Eastern Europe, and a lack of confidence in crypto investments, making it difficult for the rate to recover from its major drops this year.