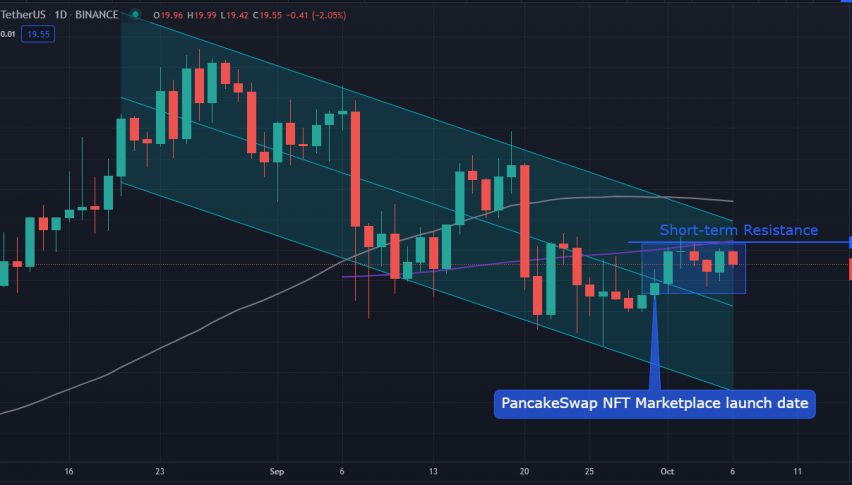 Is PancakeSwap (CAKE) in Trouble after Falling from Recent High?
Cryptocurrency token PancakeSwap soared briefly on Tuesday as it achieved a high of $4.2785 (CAKE/USD). The crypto then fell to $3.93 only a short time later, a drop of 18.5%. Where is it headed from here and should investors be worried?
What to Know about PancakeSwap
PancakeSwap is currently one of the more volatile crypto tokens on the market. There is a lot of investor interest in this one, and its trade volume is about $46 million over the last 24 hours. However, trade volume is down 33% for that period, so obviously some investors are worried.
We did see a huge price increase for PancakeSwap not that long ago, when it hit $4.62 on August 8th. That was the highest this coin has reached since early June, so there is still a lot of life in it. While this coin has had some serious ups and downs recently, the huge amount of movement shows it excels at momentum. Investors are buying into CAKE in a big way, and then dropping their investments in an equally big way.
Overall, the CAKE rate is down for the year but up compared to where it was last month. It could move forward from here, but it is likely to do so in a volatile way.
What's Next for This Crypto?
A drop of 18.5% is no small thing for any crypto, and it has obviously been devastating to CAKE's trade volume. That could all change around shortly, though, particularly heading into the weekend. We expect the currently low rate to draw in new investors, and then those investors to push the price up so that more mainstream investors take notice and invest back into the crypto before the old investors sell off and the cycle starts all over again.
We could easily see a CAKE price that's back up to the $4 level very soon, and short-term investors have a lot of profit potential with this one.