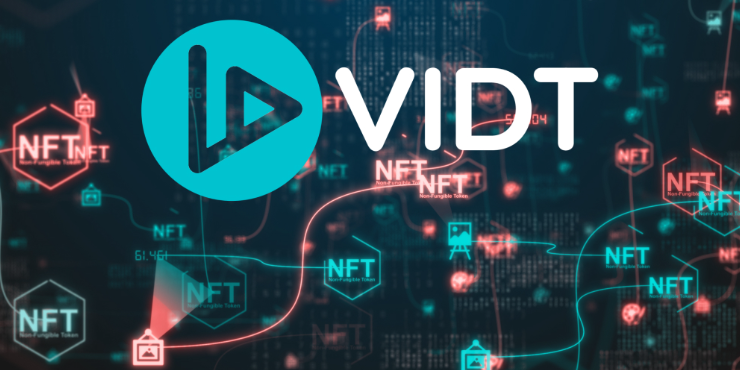 Crypto Token VIDT Datalink (VIDT) up by 60% This Morning. What Is Causing the Huge Gains?
One of the top gainers for the week so far is VIDT Datalink (VIDT), a crypto we have not heard much from lately. This token has actually been going bearish since Sunday, and today its gains have exceeded 60% over the previous day. It looks like the coin will continue to rise as well, making it one that investors should be paying close attention to at the moment.
What Is VIDT?
You might not be familiar with this particular cryptocurrency token, but it has been around since 2019 and has had some incredible surges this year that have put it on many investors' radars. The coin is used as the proprietary token for a Web3 platform that creates timestamps and NFTs, just to name of couple for its functions. The platform works as a verification system for digital assets of all kinds, and major tech companies use its capabilities to validate their own services and products.
The VIDT rate is at $0.06742 (VIDT/USD) right now and is climbing. Before this current bullish trend started, the coin was sitting at a price point of $0.01829. The total gain since then has been 268%. We would say this is definitely a coin to keep an eye on right now.
Why Is This Coin So Bearish Right Now?
When the crypto market crashed earlier this month, VIDT fell as well in a big way and has yet to recover fully from that drop. However, its current trajectory is very promising for new investors.
VIDT Datalink is extremely volatile right now, with the potential to go either way in a hurry. Because its profile is on the rise right now, with numerous news stories talking about its meteoric gains, the current token holders could sell off at any moment and send the coin plummeting. With a market cap of just $51 million, it would not take a lot to cause the coin to go into a steep dive.
Today's trade volume for VIDT is up 159%, with an average trade volume of $159 million over 24 hours. The fact that that 24-hour volume has exceeded the market cap should give you some indication of just how precipitous this coin's position is. A mass exit of token holders in a bid to make a quick profit could spell disaster for this coin. The reason for the bullish run is not evident, but that run could reverse at any time.