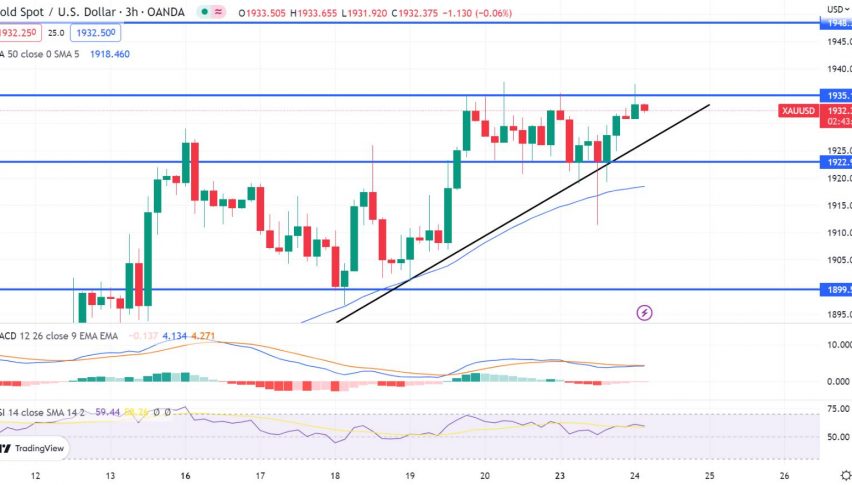 XAU/USD Forecast: Will Gold Prices Break Trendline Supports On A Correction?
Posted Tuesday, January 24, 2023 by
Arslan Butt
• 2 min read
After failing to hold above a significant trendline and horizontal support, GOLD prices swung wildly to start the week. The bulls in Asia have taken up the $1,932s, extending their advance from Monday's late positive reversal. GOLD remained unchanged on the day at $1,932.10 an ounce as of this writing. Nonetheless, gold's price rose from its low of $1,911 to surpass the previous week's peak.
The atmosphere surrounding the European Central Bank (ECB) and the Federal Reserve (Fed) was only one of several variables that contributed to the volatility at the beginning of the week. People on the ECB Governing Council want to raise rates by 50 basis points. As a result, the Euro appreciated as high as $1.0927 against the weakening US Dollar, helping the Gold price recover inside volatile markets. Concerns about a US recession and the possibility of a more passive Federal Reserve also persisted.
Forecasts from the Federal Reserve and their effects on GOLD GOLD rose in value as investors awaited US economic data anticipated this week that could affect the Federal Reserve's policy course, further weakening an already depreciating US dollar.
After four consecutive 75-bp raises, the Federal Reserve slowed to 50 bps in December, and traders expect a similar pace of rate increases at the January 31-February one policy meeting. However, lower interest rates are good for gold since they reduce the opportunity cost of owning the non-yielding commodity.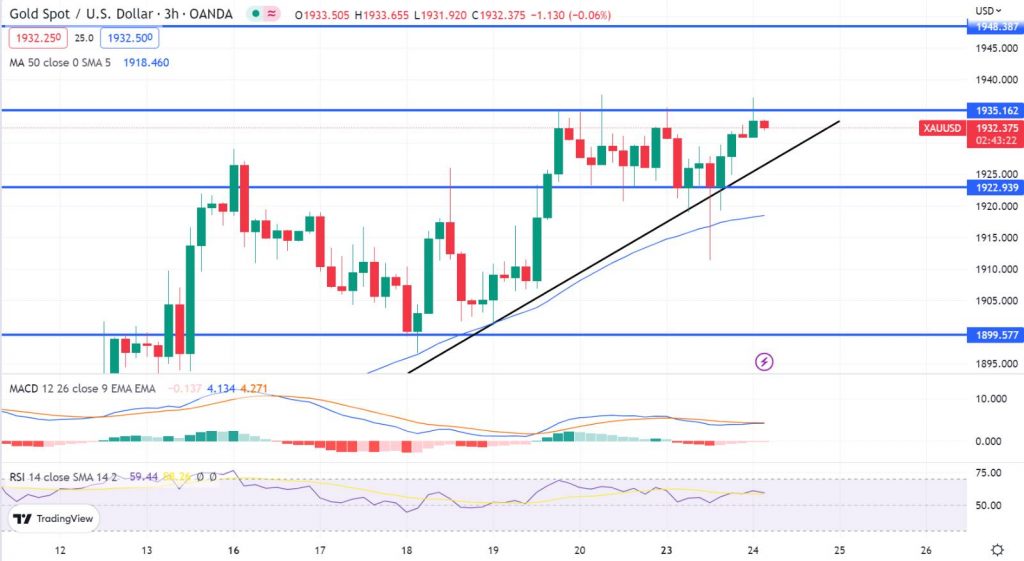 Gold Technical Outlook
Maintaining above $1,920.35 is critical for the bullish trend to continue, and the gold price has shown some minor bearish rebound to test the support line of the minor bullish channel visible on the chart.
A bullish rebound is expected, and gold is currently waiting to resume its bullish trend for today, which is continuously supported by the EMA50. Gold is expected to visit the next major station at $1,950.
Today's trade could go either way, but a range of $1,915 to $1,950 is more likely.
Today, the most likely trend is bullish.