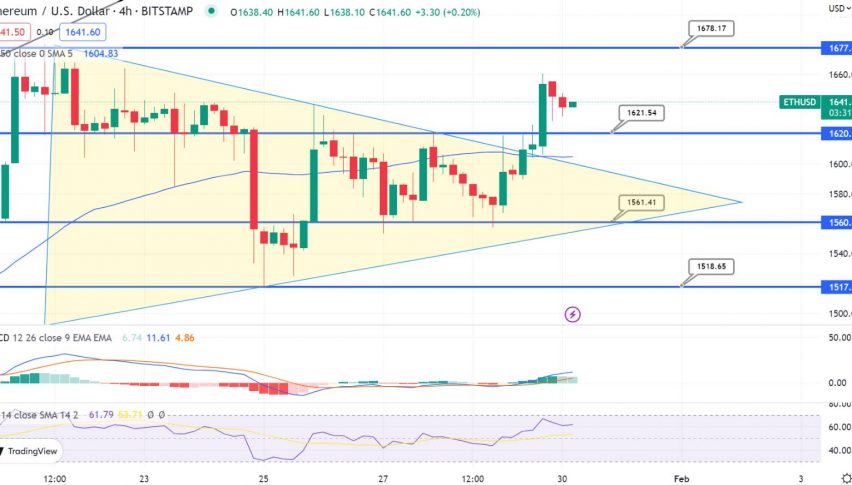 Ethereum Breaks Through $1,600: Where Is The Market Heading Next?
Posted Monday, January 30, 2023 by
Arslan Butt
• 2 min read
The global crypto market has gained in market cap in 24 hours, up by 2.89%. The second-largest cryptocurrency project, Ethereum ( ETH ), is also gaining over this time frame.
The Ethereum token ( ETH ) has seen huge price increases in the crypto market despite still being early in 2023. Ethereum is still off its all-time high value, but its price displays endurance with the current increase.
Exploring The Causes Behind Ethereum's Booming Price
Gains seen recently may be attributable to the popularity of the various Ethereum-based initiatives. Regarding NFTs, the Ethereum blockchain is still the most widely used. The blockchain is also the pioneer of smart contracts, now widely utilized in crypto. These smart contracts allow crypto users to connect effortlessly and safely on the blockchain.
One of the unique features of the Ethereum network is the Ethereum Name Service (ENS). To assist keep track of all the different cryptocurrencies out there, the ENS assigns human-friendly names to each one to simplify their addresses.
Ether is the pioneering alternative cryptocurrency and the second-largest cryptocurrency project by market valuation. Its novel proof-of-stake technology reduces energy consumption while drawing more people into crypto. With so many Web3 and Metaverse projects, the network has become known as a place where programmers like to hang out.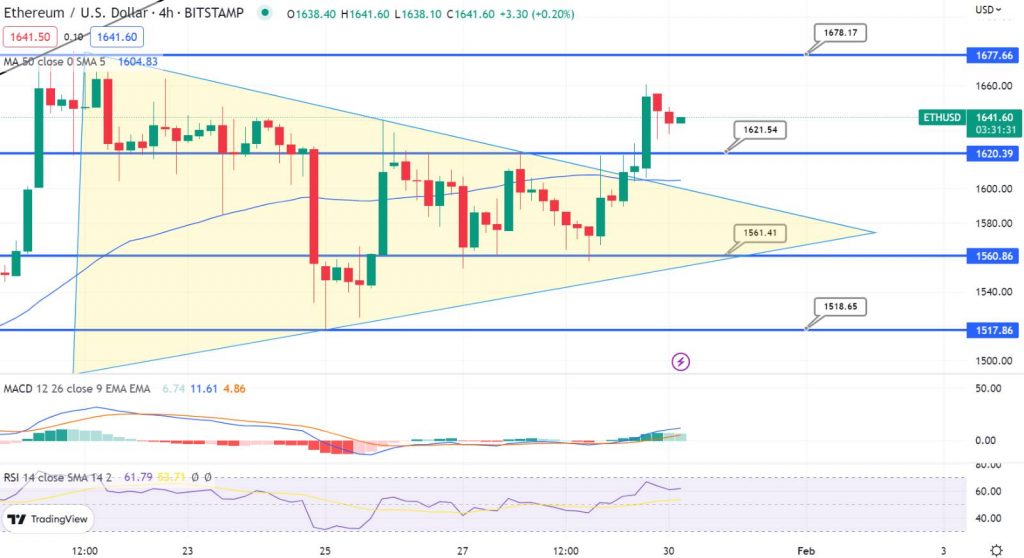 What's Next for Ethereum As It Crosses $1,600?
Yesterday, despite a global market sell-off, ETH prices rose to $1,605, a rise of 3.81% from the previous day. The chart's candlesticks depict an upward trend for ETH over the past three days. But it is in a sideways trend and ready to start climbing again. Like most cryptocurrencies, ETH appreciates when the price of bitcoin rises.
ETH prices are currently above their 50-day and 200-day simple moving averages (SMA). This is a sign that the asset is likely to go up in value, so the price of ETH may go up soon. Resistance levels are at $1,667.95, $1,710.67, and $1,775.77, with $1,452.32, $1,495.32, and $1,560.14 serving as support. Today's market activity suggests that Ethereum's price will be strong enough to go through the nearest resistance level of $1,667.95.