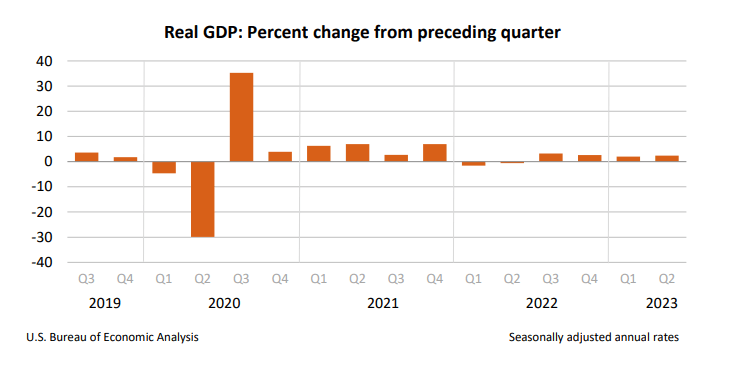 U.S Q2 GDP Growth Exceeds Expectations, Records stronger Yields and the Dollar
As per the U.S. Department of Commerce, the gross domestic product (GDP), which represents the comprehensive gauge of goods and services produced within the country, exhibited robust growth in the second quarter. The GDP expanded at an annualized rate of 2.4%, surpassing initial expectations of 1.8%. This positive outcome is likely to alleviate concerns of an overly exaggerated recession and stands as a solid performance for the economy.
Taking a closer look at the report's specifics, it's evident that personal consumption expenditures, constituting around 70% of GDP, rose by 1.6% following a previous gain of 4.0%. This significant increase serves as a clear indication that households are still reluctant to curtail their spending, partly due to the robust and dynamic labour market conditions. 
Moving on to other aspects, gross private domestic capital formation saw a notable increase of 5.7%. Within this category, business fixed investment experienced a significant jump of 4.9%, while residential investment, unfortunately, declined by 4.2%. Due to the anticipation of persistently high mortgage rates, the housing market might continue to face challenges, leading to a depressed state. However, there are promising signs that it could potentially be reaching a bottom, as suggested by other indicators.
All in all, the robust GDP data indicates that the economy continues to thrive, even in the face of the FOMC's aggressive measures to curb activity and combat inflation. The significant increase in final sales to domestic producers, at a rate of 2.3% (4.3% nominal), reinforces this assessment and serves as a strong signal that internal demand remains remarkably resilient.
Following the release of the GDP report by the U.S. Bureau of Economic Analysis, there was an immediate increase in Treasury yields, leading to a boost in the value of the U.S. dollar. If economic growth maintains its pace and does not moderate, the Federal Reserve might feel compelled to implement further tightening measures later this year to prevent inflationary pressures from resurging. These expectations have the potential to keep yields biased towards the upside, particularly if forthcoming CPI and Core PCE results reveal signs of price stickiness.
As for the top trading opportunities in this quarter, investors should closely monitor developments related to interest rates, inflation data, and any potential Fed actions. The impact of these factors on Treasury yields and the U.S. dollar could present significant trading opportunities in the financial markets. Additionally, keeping an eye on sectors that are sensitive to economic growth and inflation can help traders identify potential winners and losers in the evolving market conditions.