How to use crypto signals when trading with Huobi
This guide follows an experienced trader's template on using crypto signals to trade digital assets on the Huobi Exchange. You will learn how to start trading on the platform, how to integrate a trading signal on the exchange, choose a suitable signal provider and the top reasons why you should consider automating your trading journey.
Trading Huobi with Crypto Signals
The world's spending on blockchain-related technology is expected to record $15.9 billion by 2023, all the way from $1.5 billion in 2018. As crypto proponents embark on growth and building more revenue streams around the industry, the infrastructure will grow as well as the valuation. In this age of transformation, I feel we have a role to appreciate any tech out there that would help reap profits from trading. Crypto trading signals are one such tech appealing to both experienced and newbie crypto traders. It is worth noting that any tool that's valuable to the trading journey is handy and worth upholding. 
A trading signal is a set of guidelines for either buying or selling an asset class on the basis of pre-worked out technical analysis, which either takes profit or executes a stop loss. An experienced team of professional traders work behind the scenes to create signals for a provider. Thereafter, the signals are provided to traders if they subscribe to the signal solution platform. Note the signals are informed by both technical and fundamental analysis so as to form a reliable trading idea. Most of the signal providers are free, but the best ones are usually subscribed at a fee. I mostly recommend traders sign up for a premium service for quality signals. It's pretty risky to receive crypto trading signals from a dubious service, you could end up losing your entire capital.
Lots of lucrative opportunities are already available in the crypto industry. The industry is still young but has facilitated millions of traders to earn a living and even millions of dollars in profits. In fact, there are torns of crypto signal providers out who are providing services to Huobi traders. Taking advantage of these services will help traders explore more profitable areas in the volatile crypto industry. 
Well in the simplest form what would you say is a crypto signal? Simply it's a set of instructions informed by a set of indicators showing that the price of an asset will either increase or decrease within a set amount of time. Afterwards, the Provider informs the traders to either enter a trade with $30,000, sets a take-profit at $35,000 and a stop loss at $25,000.
Benefits of Crypto Signals
Ease of making a profit – A decent service will provide decent signals that will help you make money. It does not matter the price tag of a premium signal provider, what matters is they will make you money and you will win in the end. While it is important to note that good service could cost you some cash, remember a quality signal will always make you more money than you paid.
Fresh perspective–  It's a frequent thing to have a biased opinion on the direction of a market. Especially whenever you receive a contrary trading signal to what you already have. This could help shape your opinion, and skills and grow your perspective as a trader.
Education, News, Chats and Information – crypto signal providers provide tons of educational material, chatting resources and news events. Most of the information is significant to trading because, for instance, a major news event could influence the market direction of an asset. Traders can usually incorporate the information they get here to inform their own trading strategy. As well as learn more about the market.
Risk Management – Risk management during trading should be swift and accurate. Without this, you are setting yourself up for a loss. Trading signals could help you lessen your risks and come in handy even when saving money for your next trade.
Extra pair of eyes – It's sometimes difficult to keep track of multiple markets and asset classes during different timeframes. If you are a part-time trader, you do not want to leave your trades idle for hours. A crypto signal would come in handy in such cases, and serve as your personal assistant to monitor the markets.
A highlight of factors that define a good crypto signal provider:
Reputation

– First comes the reputation of a crypto provider. Is it legitimate? Conduct a quick search query on Google to check whether a provider is legit or just another dubious scheme to reap you off. Most reviews and testimonials on Google are legit and come from real people that have already tried and tested the provider. If you find any red flags, move on to the next provider. 

Quality technical analysis

– The best crypto signal providers have an in-house team of experienced and highly skilled analysts and traders. All of whom have a successful track record of creating profitable and reliable crypto signals. 

Good blend of fundamentals and technical analysis

– Fundamental analysis involves all the news and events surrounding the price action of an asset. Fundamentals help you define and relate microeconomic factors with the direction of a cryptocurrency. This could be an event in the United States, a policy change in the U.K or a public holiday in Australia. A good provider will help you remain on the lookout for such fundamentals that could affect the price direction of an asset class. 

Paid subscription

– Premium subscriptions to Crypto Signals Plus offer many benefits. While the free version of the program is limited in the number of signals offered, the premium subscription unlocks all long-term crypto signals as well as the added bonus of real-time hot coin information. A fancy chart on the website allows you to keep track of over 1,000 cryptocurrency tickers. You can create your own cryptocurrency watchlist and use technical and fundamental analysis to predict future prices.
Huobi prides itself in a family of over 3 million users and automated trading signals are no news to them. Signals have come in handy to both seasoned and newbie crypto traders. It is important you therefore get used to this extremely significant software. But remember that it does not matter what exchange you intend to use with crypto signals. Huobi or any other exchange will blend well with a signal API. You will reap immense benefits once you correctly configure your software to pick the right trades. The precision rates for lots of crypto signal bots are usually high and at the service of your needs. 
How to use Huobi for trading signals
Now, let's learn exactly how to use a trading signal on the Huobi Exchange. We'll pretend that we've received a Huobi trading signal so that you can also understand how to use that signal to trade on Huobi. If you're not interested in leverage, the principles are very similar for Spot Trading.
 What you'll need:
A Huobi account. Sign up on the Huobi website, You'll need to pass Know-Your-Customer (KYC) to begin trading.

Funds. We'd recommend depositing $50+ to start with, although you can deposit as much or as little as you like.

A Huobi trading signal. We'll say that the FXLeaders team has issued an alert to buy Ethereum (ETH) at $1500 using 2x leverage, with a target of $2000 and a stop loss of $1300.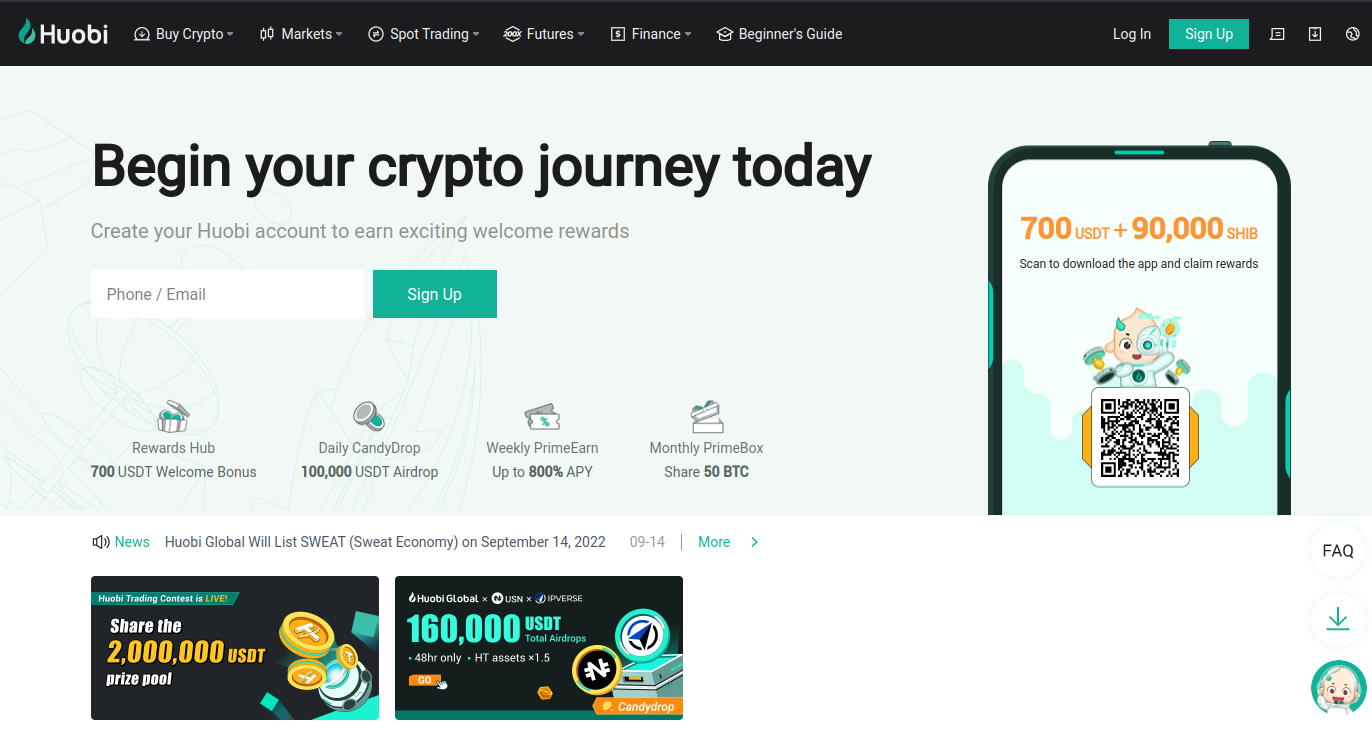 1. Navigate to the spot trading drop-down navigation bar on the Huobi homepage and click Trading bot.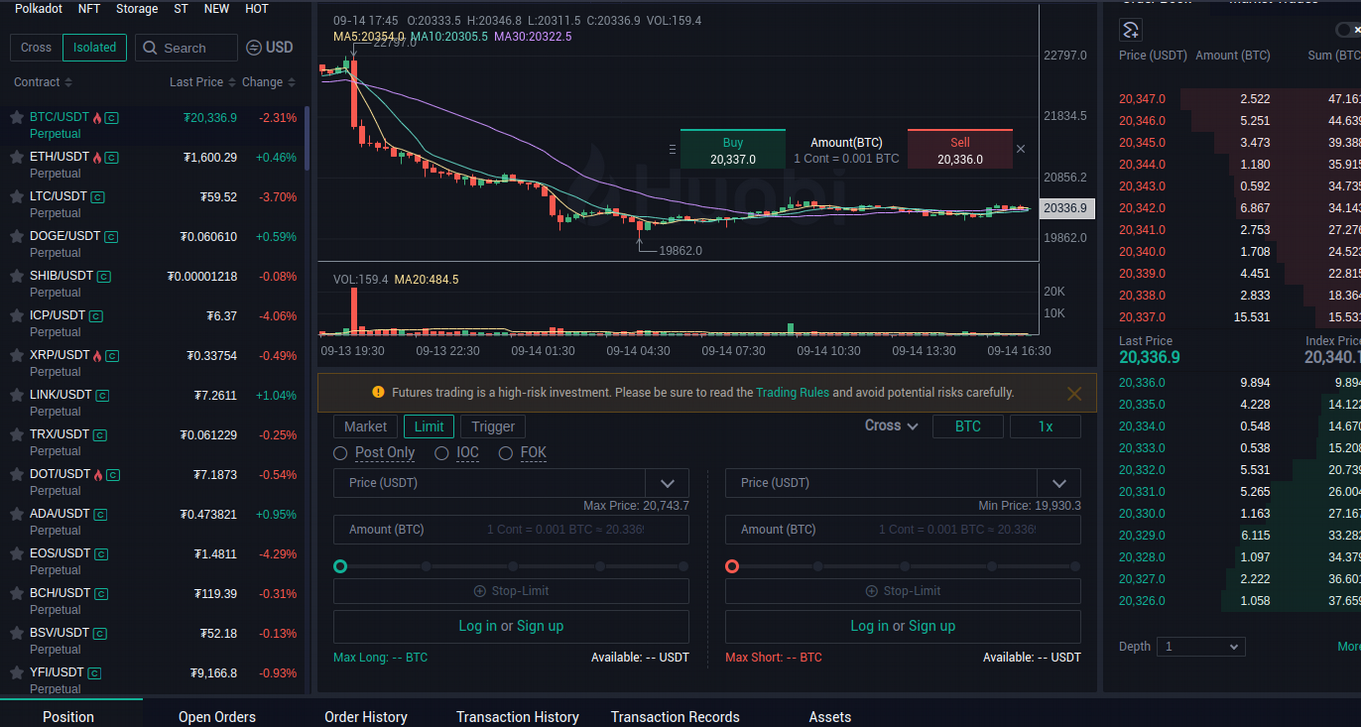 2. Next locate on the right bar, Grid Trading and click the manual button. Here you need to key in the details of the crypto signals from FXleaders.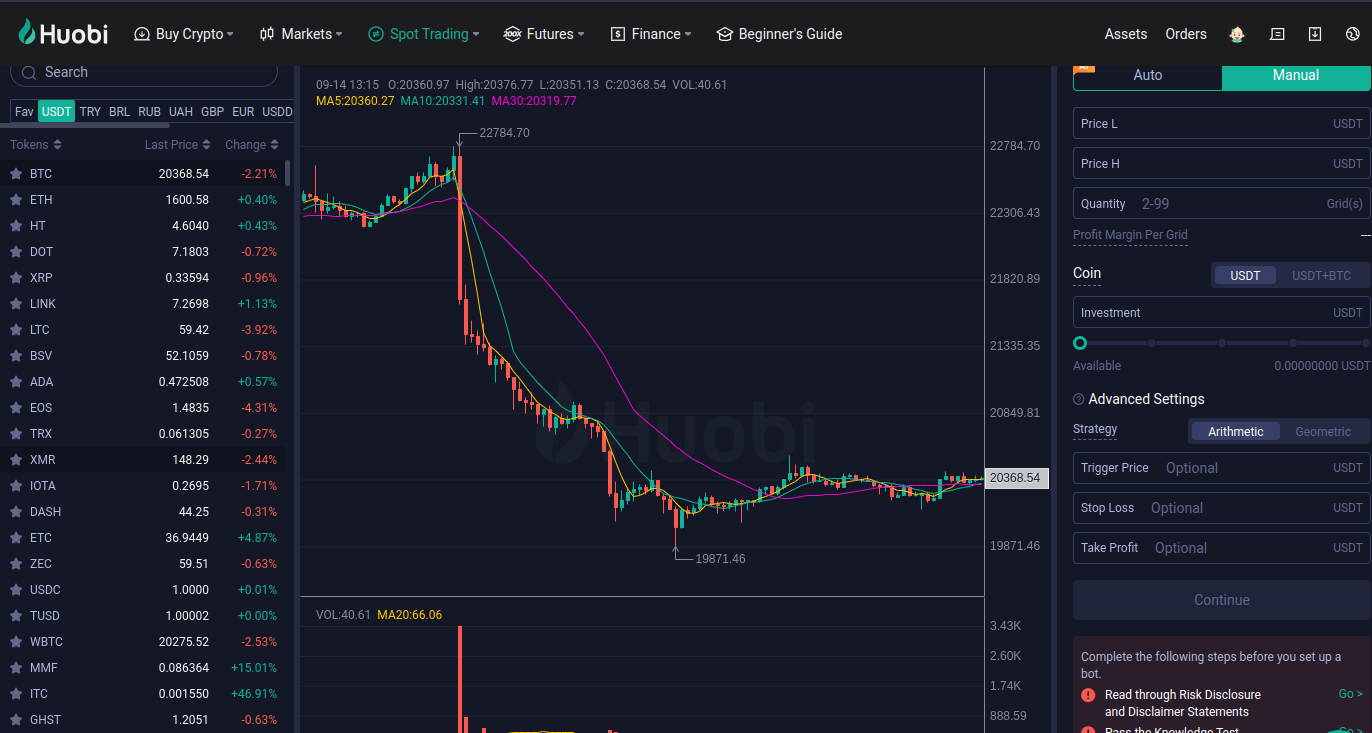 In most cases, a signal provider will recommend the amount you need to spend on a given trade. However, beginners might not have that full amount and I would advise them to trade with what they have depending on their risk tolerance. Since we advised that you have at least $50 on your account for this trade, invest in a $25 worth position. Once you have initiated the position, the order will remain in the Open Orders section and wait to execute until the price of the Ethereum coins hits $1500. The order will buy ETH at that price and then wait for a given amount of time until it hits $2000. Whereby the position will execute a take profit at $2,000. If the price drops, the stop loss at $1300 will prevent further losses.
How to find the best trading signals
Given that you finally understand how to trade Huobi with crypto trading signals, it's pretty worth it you understand how to spot a decent signal provider. There are many dubious solutions out there and its important to conduct your due diligence before subscribing to any. You will even find some illegitimate providers with what look like quality testimonials, success stories and reviews. At times those reviews could be fake. Meanwhile, take into consideration the following criterion when choosing a good crypto signal provider.
Is the service transparent?
Every quality crypto signal provider should be honest about their successes and losses. A signal provider that claims to have a fantastic win rate with no proof to back it up is the last thing you want. Instead, you need a provider that admits their losses and shows integrity in all their dealings.
How long has the provider been in operation?
The crypto industry is still not yet that old and so are most crypto solution providers. But this isn't to mean that a provider that's been around for a few months will provide quality signals. Anything could go wrong with an inexperienced signal solution. Whatever the reason, a seasoned team of professionals (like we have at FXLeaders) with plenty of experience will always remain a suitable choice for your trading needs.
What's their track record like?
A provider with good performance history and a track record of success is crucial when choosing a signal platform.  A decent provider has consistency, is reliable and features a positive win rate over years of trading, backed up by credible reviews from real users.
Do they offer anything else besides signals? 
Look at what the price tag of a provider comes along with. Education resources, charts or news indicators. Also, they could have an active support team, a  trading room, live updates, or a special methodology behind each trade. Besides, If a provider offers you the rare opportunity to learn alongside earning, then grab the chance with both hands.
Does the provider offer a free trial? 
A Free trial is a good indicator that a subscription provider is not just out for money.  The provider is looking to grow their business and customer base and believes that you'll want to buy their service once you see their signal results are worth your time. This indicates that the provider is invested in your long-term growth and your profits.
Gut feelings
Finally, what's your inner intuition on whether the service is legit or not? You'll generally know once you've found the right provider because everything will look completely genuine. If you have any doubts whatsoever, stay away. It's simply not worth the risk. Avoid a provider with red flags or unrealistic promises.
FXLeaders Trading Signals
At FXLeaders, we offer a set of free and paid crypto trading signals that have performed exceptionally well over the years. They're crafted by our handpicked team of industry experts that have been in the crypto markets since the beginning. Using a combination of proprietary tools, technical analysis, and fundamental analysis, we've built a fantastic strategy that has been consistently netting profits for our followers for years now.