Dogecoin (DOGE) Price Prediction for 2021: Is the 20 SMA Going to Keep Pushing Doge Down?
Last Update: October 22nd, 2021
DOGE/USD – Forecast Summary
DOGE/USD Forecast: H4 2021


Price: $0.40 – $0.50
Price drivers: War on cryptos, Doge coin sentiment, Technicals

DOGE/USD Forecast: 1 Year


Price: $0.70 – $0.80
Price drivers: Increased adoption, Cryptocurrency market sentiment,

DOGE/USD Forecast: 3 Years


Price: $1.50 – $2.50
Price drivers: New Developments from DOGE, Crypto market
Dogecoin (DOGE) is a peer-to-peer, open-source cryptocurrency created by software engineers Billy Markus and Jackson Palmer in December 2013. This token surged in price during April, as it shot to $a0.76 from $0.07, which means gaining around 1,000in two weeks. Since then, Dogecoin was looking really bearish, as it slipped to $0.15 by July 2021 after the crash in the crypto market in May and the bearish momentum which followed. The meme coins were missing the bullish reversal in the crypto market until the second week of August, which was disappointing for buyers, but it started turning bullish eventually and it has doubled in price by the middle of August, so the bearish period seems to be over for Dogecoin. Elon Musk's comments and Mark Cuban's incentives for Mavericks fans to pay with Dogecoin are also helping this crypto on this bullish reversal.
This coin is considered an altcoin and an almost sarcastic meme coin. Dogecoin features the face of the Shiba Inu dog from the "Doge" meme as its logo. Since it was designed apparently as a joke, its blockchain still has value. It should be noted that Dogecoin's underlying technology is derived from Litecoin. Well-known and major features of Dogecoin, which uses a script algorithm, are its low price and unlimited supply. However, it is a mineable coin that is currently trading around $0.30 and has a market capitalization of $39.238B, which puts it in the seventh position in the global Cryptocurrency Rating. On the supply front, the currently available supply of Dogecoin is 130.45B coins. 
We are presenting the full Dogecoin price prediction and forecast that offers a better perception into the current DOGE market situation, future expectations regarding the price movement, and Dogecoin market capitalization. This will help us to understand what's going on in the Crypto Market currently so that we can adjust the trading strategy accordingly, which makes planned investment and trading decisions in the future, although at the moment it seems risky to invest in Doge coin right now, since the crypto market is in a bearish period, which now one really know how long it will last.
Recent Changes in the DOGE/USD Price
Period
Change ($)
Change %
30 Days
+0.11
+51.3%
2 Months
-0.03
-10.3
3 Months
-0.22
-43.2%
6 Months

+

0.23
+383%
1 Year
+0.29
+999%
Dogecoin (DOGE) Price Prediction for the Next 5 Years
Last year (2020) was seen as beneficial for cryptocurrencies. Even as the rest of the economy declined, most cryptocurrencies' prices rose or maintained their prices within the range. But the situation turned even more bullish in 2021. The first four and a half months were immensely bullish for cryptocurrencies, with many of them gaining 10 to 20 times in value. Doge coin was also extremely bullish but faced enormous price volatility during this year, the same as any other cryptocurrency. It climbed approximately 7400% from the beginning of the year when it was trading just below $0.01, until early May when it briefly moved above $0.74. The Dogecoin cryptocurrency market cap peaked at $95.370B in May, but after the reversal of the last two months, the market cap has declined to $22.356B. 
At the time of writing Dogecoin was trading at almost $0.25, with the crypto market being in an uptrend now, after Dogecoin traded on a downtrend from May until early August. The traders have realized that the establishment can't kill this market, even with the central bank cryptocurrencies, which are on the way. Crypto investors are getting used to the crackdown, so we are seeing the trend shift to bullish in this market and buyers have regained their confidence after the bearish period from mid-May until August.
As we are all well aware, the Dogecoin started a joke, or rather to satirize the proliferating dubious crypto coins. Despite these factors, its growth has not been a joke. 'At this moment, it ranks eighth across the globe. Recent support from high-profile individuals has influenced the "joke" cryptocurrency. Besides this, the reason behind its bullish bias earlier in 2021, can be mainly attributed to Elon Musk's series of tweets. Gene Simmons reported that he owns DOGE, which was also seen as one of the key factors that supported it. Apart from this, Snoop Dogg (American rapper) posted an altered album, named Snoop Doge. If the celebrities continue this passion for Dogecoin, then its price will pick up again, when the sentiment improves in the crypto market. There is no reliable way to see the future price of cryptocurrencies exactly. But our analysts use mathematical algorithms to forecast the future price of cryptocurrencies for both short-term and long-term investments.  
Price Prediction for 4th Quarter 2021:
Cryptocurrency users, traders and investors will realize at some point that this market will survive the hostility. The central banks might be able to make it difficult for some centralized cryptocurrencies, but other countries are inviting them with El Salvador making Bitcoin legal tender. Other countries such as Malta, Peru, Singapore, Switzerland etc are increasing the crypto adoption and are very friendly for cryptocurrencies. Despite that, the crypto market is becoming increasingly decentralized, which means that it will be increasingly difficult to crack down on them. Will the shift happen before the end of the year? No one knows, but it is certain that cryptos will reverse at some point and if that happens during Q4 than great. 
Price Prediction for 2022 – If the crypto crackdown eases or comes to an end by the end of 2021, or if the establishment fails to supress this market once and for all, which is sort of impossible and traders realize that, then cryptocurrencies will turn bullish and Doge will increase. In order to judge where Doge coin might be throughout 2022, we first need to see where the bottom comes before the reversal. But the chances are increasing that 2022 will be a good year for cryptos, and we think that at some point, Doge will target the May highs at $0.74.
Price Prediction for 2023 and 2024 – The generally bullish sentiment regarding cryptocurrencies will keep pushing the Dogecoin prices up by this time. In simple words, more investors are expected to continue buying DOGE, which will push prices even higher. According to our forecast, Dogecoin will probably start 2023 at a  maximum price of around $0.70-0.80. No one know exactly where it will be, but this period will be bullish for cryptocurrencies, and Doge is most likely to increase above $1.
Technical Analysis – Bearish Correction in Play, Brace to Capture Buying 
Dogecoin's price began 2021 at $0.0232. The meme coin is currently trading at $0.2452, which is a 957 percent rise from the start of the year. The price of Dogecoin is expected to be $0.29 at the end of 2021, with a year-to-year change of +1150 percent. The expected increase from today through the end of the year is 18%. 
Dogecoin Price Prediction for 2022
The price of Dogecoin is predicted to rise with bullish momentum and reach $0.9 before the end of 2022. Dogecoin (DOGE) may trade above $1 by the end of the year, according to the Dogecoin price forecast for 2022. The expected high for 2022 is around $1.22, while the predicted low is around $0.96.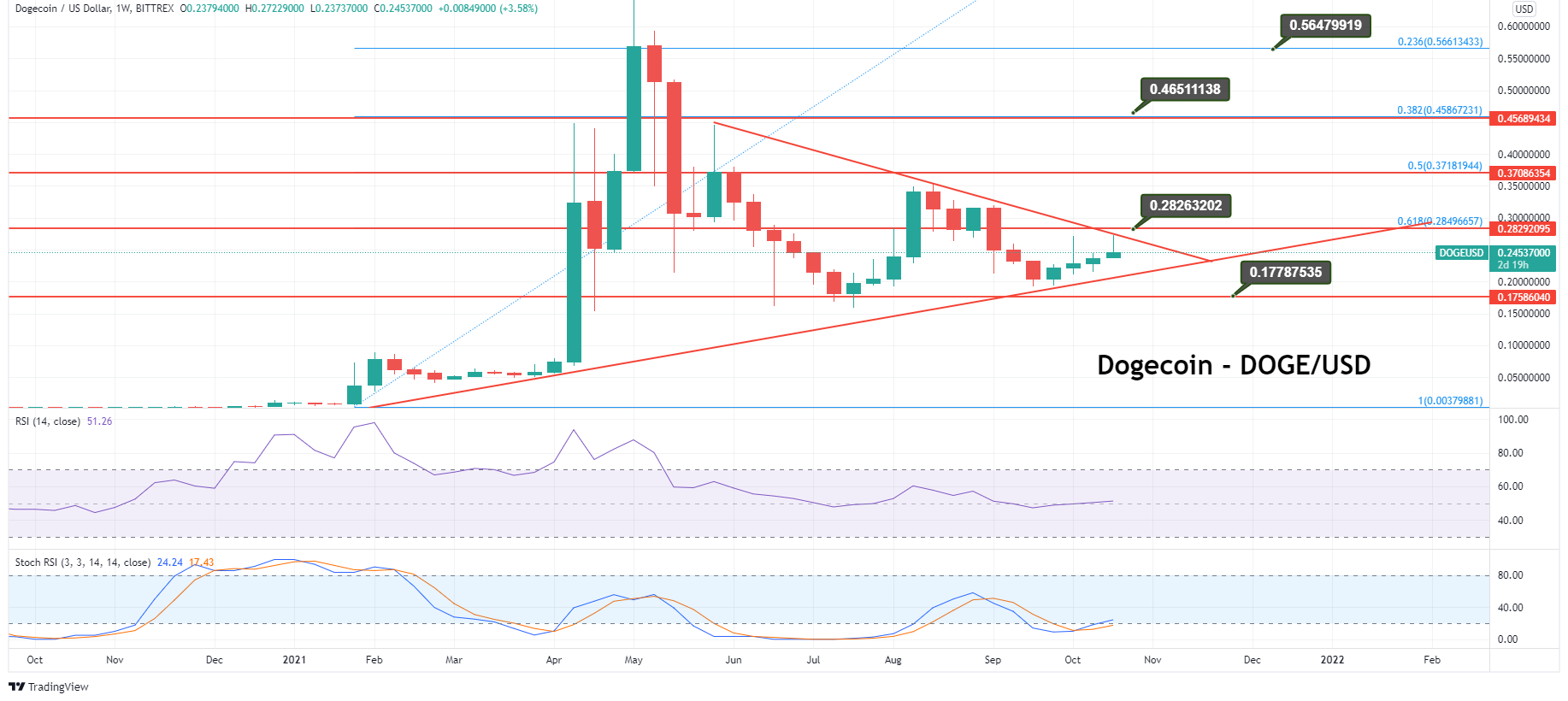 DOGE/USD- Weekly Time-frame – Symmetrical Triangle 
Dogecoin Price Prediction 2023
Experts expect that the price of Dogecoin (DOGE) will continue to rise gradually. And, according to our projections, it will be able to cross the $1.4 mark by the end of 2023. The expected high for 2023 is more than $1.45, while the predicted low is around $1.12.
Dogecoin Price Prediction 2024
According to the DOGE price projection for 2024, the price could hit $1.70 by the end of the year. According to our prognosis and price predictions, the high for 2024 could be around $1.74, and the low could be around $1.40.
Dogecoin Price Prediction 2025
According to our Dogecoin price forecast 2025, the coin might reach $2 on the upside while falling to $1.50 on the downside. According to our latest DOGE price prediction and prognosis, the price of this currency might be about $1.96 by the end of 2025. According to our long-term price projection for Dogecoin, the future increase of the DOGE/USD is anticipated to be about $1 after one year.