Monero Coin (XMR) Price Forecast for 2021: Will the XMR/USD Continue to Rise in 2021? Key Factors Explained!
Last Update: January 11th, 2022
 Monero Coin (XMR) – Forecast Summary
Monero Forecast: H2 2021


Price: $280– $300
Price drivers: Symmetric Pattern Breakout

Monero Forecast: 1 Year 


Price: $360–$400
Price drivers: Bullish Engulfing, EMA Support and MACD Crossover

Monero Forecast: 3 years


Price: $800
Price drivers: Double Top Resistance, Bearish Correction
 
Just like Bitcoin and Ethererum, the cryptocurrency Monero has also shown a dramatic bullish trend recently. Considering the performance of the past month, the XMR/USD pair has gained +$ 150, soaring nearly 300%, to trade at $ 220s. Over a period of six months, the XMR/USD pair has gained +$ 150, or 273.54%, on the yearly time-frame. Currently, the XMR/USD Live Price chart suggests that Monero (XMR) is trading at $ 198. The market cap of Monero is USD 3,653,624,934, and currently, 17,837,278 in XMR is circulating. 
Recent Changes in the Monero
| | | |
| --- | --- | --- |
| Period  | Change ($) | Change (%) |
| 30 Days  | +42.73 | 30.94% |
| 6 Months  | +72.46 | 66.86% |
| 1 Year  | +114.73 | 173.54% |
For the newbies, Monero (XMR) is a cryptocurrency that concentrates on being untraceable and private. In a few key ways, the design is different from Bitcoin, but it can be understood as a cryptocurrency like Bitcoin. It can be used to buy and sell things, and it can be exchanged for other coins or tokens. As already mentioned, the Monero XMR coin focuses on privacy and anonymity, so transactions with XMR coins can be fully anonymized, like physical cash. Monero was created in 2012, and it is a fork of the Bytecoin blockchain, which was initially named Bitmonero.
One of the interesting facts about Monero (XMR) is that it is fungible, and you have full control over your currency and transactions. Monero has no pre-set size limit, similar to Bitcoin, which means malicious miners can clog up the system with disproportionately huge blocks. Furthermore, Monero (XMR) is set to be one of the three top-performing cryptocurrencies in 2020, as per the oracle time, and Monero is gaining worldwide acceptance in the wake of its privacy policy. 
Is Monero a Good Investment in 2021?
According to our forecasts, the Monero (XMR) is likely to trade bullishly, and it's price is expected to surge sharply, like its peer cryptocurrencies, Bitcoin and Ethereum. Currently, the price of the Monero is $ 193.42, but by the end of 2021, the Monero price is expected to soar to the $ 460 level.
Why Buy the Monero (XMR)? 
Monero has a market capitalization of approximately 2.553 Billion, and it is ranked 14th among all cryptocurrencies by market cap. This is why the users are confident of its prospects for further development. And besides that, the Monero, like other cryptos, should be evaluated as more than just a payment method.
Here are some significant advantages of Monero:
Secrecy – Secrecy is seen as one of the key advantages of the Monero XMR coin. One-time addresses and ring signatures enable senders and recipients to cover up their transaction routes. With Monero, users are assured that their purchases and transfers are secured from public leaks. Apart from this, transactions made with the Monero are also safe from hackers. If a hacker does manage to find out the specific addresses of one of the parties, the system member could deny the transaction due to obfuscation.
Security – The proof-of-work system and blockchain make it possible to exclude transaction spoofing or serious DDoS-attacks. Monero (XMR) software runs on Mac, Windows, Android, Linux and FreeBSD.
Investment potential – In addition to being a cryptocurrency, Monero (XMR) is also a great investment tool. Let me remind you that the value of the Monero (XMR) increased from $ 1 to $ 300 between 2016 and March 2018. Since it was created, the value of the crypto has risen by 8,900%. This is why many top experts suggest that XMR should be used for investment portfolios, since it is one of the most reliable and confidential cryptocurrencies.
Strong community – No cryptocurrency will ever be considered unpopular as long as a community of miners, pools, users and developers exist. It is worth reporting that many developer groups are currently involved in creating and implementing new project features. Miners and ordinary users are also involved in discussing Monero's future. More interestingly, hundreds of thousands of users worldwide use XMR every day, making the daily trading volume excellent.
Transaction speed – This one is my favorite; the average time to transfer coins from one address to another just takes 2 to 30 minutes. When talking about the Bitcoin network, the transfer time could be as high as two-hours (with a slightly loaded mempool). Monero is a reliable alternative to modern banking transfer systems with a high level of privacy.
Low commissions – The commission does not surpass 0.05% of the amount transferred. Traditional wire transfers, on the other hand, may cost up to 1% or even more.
XMR/USD – Factors Impacting the Monero Coin(XMR) Price
These impacting factors will help you understand the market and predict periods of growth or decline, based on current events. The predictions are typically based on the principles of technical analysis. Despite this, we should all understand different factors that can impact the price of a particular asset, which in turn, enables us to make sensible investment decisions, based on changing events.
 Let's take a look at the three most important factors that can affect the price of Monero Coin:
1- Supply and Demand:
The relationship between supply and demand could be considered a key factor that will always influence the price of Monero Coin. It is also worth noting that the relationship between supply and demand is itself dependent on many different factors. In simple words, the price of an asset will decrease if the supply is greater than the demand, and conversely, it will increase if the demand is greater than the price. 
1: Transaction Cost (PoW / PoS) 
2: Reward System 
3: Mining Difficulty (Hash Rate) 
4: Coin Circulation 
5: Forks (Rule Changes)
2 – Stock Markets:
There are several types of news or events that influence the cryptocurrency markets, either negatively or positively.
Let me share some key points:
i) Regulations: Governments worldwide are beginning to understand cryptocurrencies as either legal assets or actual currencies. In this way, they are classifying them and experimenting with regulatory measures for the fledgling asset class. Regulatory measures in crypto's largest markets are bound to set prices off. Regulatory measures that would restrict the use of digital assets are usually taken badly by the market.
ii) Security Breaches: The digital assets field is famous for security violations by teams of hackers who make large amounts of money in this way. Thus, the perilous state of cryptocurrency markets typically sends prices from support level to support level whenever any news becomes known regarding hacking.
iii) Current Affairs:  When modern investors enter the digital assets space, this news also plays a key role in influencing digital asset prices. More people are starting to hedge into cryptos, in order to secure their value from the uncertainty presented by traditional systems.
3 – Interest Rate
Since cryptocurrencies do not give investors interest payments, rising interest rates tend to make the digital currency less appealing to market traders. If the Federal Reserve sets higher interest rates, the cryptocurrency prices tend to be undermined, as market investors move their money out of speculative investments. It is worth mentioning that the stronger US Dollar has historically hurt the value of cryptocurrencies, and an interest rate hike will only serve to boost the USD. 
Technical Analysis – XMR/USD Trading a Symmetrical Triangle Pattern – Brace for a Breakout
Last year was a watershed moment for Monero (XMR) and most currencies, both crypto and fiat. In the aftermath of the pandemic, the world's economies teetered on the brink of collapse. The pricing of Monero didn't get away unscathed either.
However, the previous year was very fruitful for Monero, and the XMR price has maintained its upward trend. In 2021, the price of Monero might reach approximately $500, which is nothing short of fantastic, considering that what started at around $158 to $160 has already reached around $480. As a result, it has significantly strengthened the market sentiment phenomenon.
Since then, the price prognosis for Monero (XMR) has shifted more towards optimism than pessimism. Traders and investors have begun wagering on the long term for the Monero (XMR) price trend, which they are actively monitoring. As a result, the Monero price estimates for the entire year remain fairly optimistic, and the price could even reach $500 by the end of the year.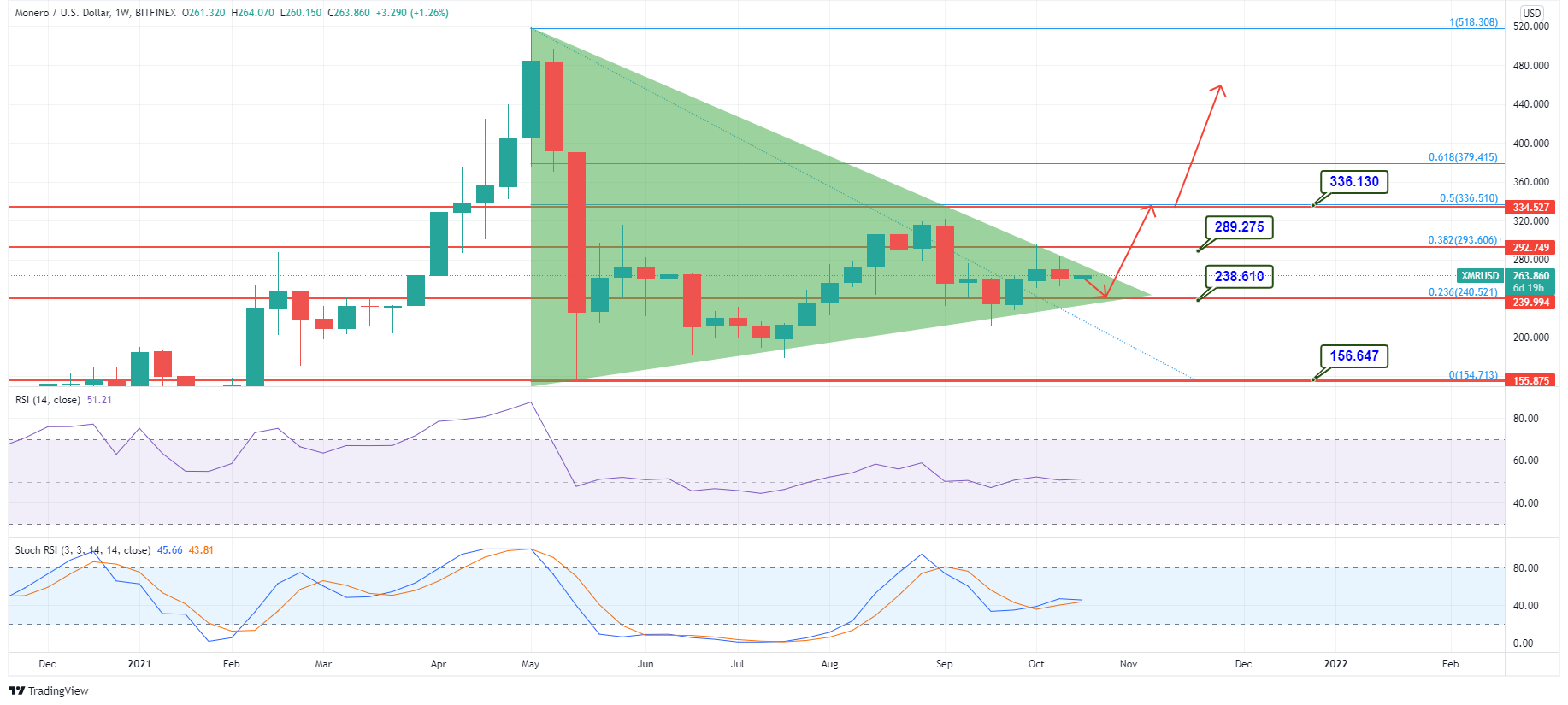 XMR/USD – Daily Chart – Symmetrical Triangle Pattern
Monero Price Prediction 2022 – According to the technical analysis, and in keeping with the same optimistic trend, some predict that the price of Monero will rise, even in the coming year, 2022. Following the current pattern of XMR/USD, mainly the way it is trading within the limits of a symmetrical triangle on the hourly chart, it is clear that Monero XMR will run parallel to the same bullish trendlines.
Although it is still too soon to determine whether the price of XMR will break through the high, one thing is certain: there is light at the end of the tunnel. Taking into account the series of successive peaks and troughs, cryptocurrency prices continue to show only an upward trend in the midst of the retreating pandemic scenario, reaching the $620 barrier.
Let's brace, keeping a closer eye on the fundamental side of the market, in order to capture any change in XMR sentiments. Good luck!
Updated: Oct 18, 2021