VeChain Price Prediction For 2021: Can Price Break the Downtrend?
VeChain – Forecast Summary
VET Forecast: H2 2021


Price: 0.1 – 0.02
Price drivers: Cryptocurrency Market Sentiment, Technicals

VET Forecast: 1 Year


Price: 0.2 – 0.05
Price drivers: Increased Partner Adoption, Cryptocurrency Market, Regulation

VET Forecast: 3 Years


Price: 0.5 – 0.1
Price drivers: Increased Partner Adoption, Increased Utility, Crypto Regulation
VeChain is an interesting blockchain-powered project that is looking to disrupt traditional supply chain models.
VeChain's price has seen plenty of volatility over the course of 2021 and so far has been moving in line with the broader sector. Notably, price got as high as $0.28 in the bull run in mid-April, before selling down like much of the crypto space, to where it currently sits at around $0.07.
While price has seen some big moves, the project itself continues to garner plenty of attention and also attract new partners as it continues to evolve.
As it stands, price is currently making a series of lower highs and it's fair to say we are in a bearish downtrend. Until that break to the upside comes, it might be worth sitting on the sidelines and waiting.
The project itself clearly offers value and a solution to a real-world problem, and the current price movements are more of a reflection of the market itself, rather than the value of the underlying project.
If price can break this downtrend, which would be fresh highs of around $0.08, then there is a chance for a rebound in the short term. If the $0.06 level drops, then we should expect further weakness and for those bullish on the project, it might be worth waiting to enter.
VeChain Price Prediction for the Next 5 Years
One of the most interesting things about the current state of the crypto market is the fact that there are many thousands of coins and tokens, yet only a few have real utility.
The problem that VeChain is seeking to solve, which is based around the supply chain, is a real-world problem and they also offer a genuine solution. So much so that they already have a number of major partners that use their technology including big names such as carmaker Renault and PricewaterhouseCoopers the multinational accounting and auditing firm.
Given that this partner base continues to grow, the longer-term outlook appears to be a strong one for VeChain. At this point in the lifecycle of many cryptocurrencies, there is a big focus on real-world utility. With the prospect of regulation increasing by the day, these companies will need to offer solutions to problems in a unique manner to survive going forward.
On the surface, the fact that VeChain already has partners that are using the technology would be a very good sign.
Given the sharp fall from the most recent highs, we should expect the five-year outlook to be very strong for VeChain. As mentioned, once this downtrend finally subsides, the outlook for price to get to the $1 level in the next five years appears to be a realistic one.
How VeChain Works
A very simple way of looking at what VeChain is trying to accomplish is by looking at the journey of a product that you want to purchase.
Let's say you want to make sure you are buying a product that is real and not fraudulent or counterfeit. VeChain works by applying a QR code to a product which can then be used to trace its history. The backend is managed through its decentralised blockchain and the given ID tag attached to the product you can ensure its authenticity. You as a consumer can then track the product's journey through a phone app.
Vechain also supports decentralised apps, smart contracts and even ICO's and also manage up to 10,000 transactions per second.
VeChain has been through a number of rebrandings and has been around since 2015 and launched in June 2016. It was created by Sunny Lu, an IT executive who was formerly CIO of Louis Vuitton China. VeChain was originally on the Ethereum network.
VeChain Ecosystem
The VeChain Ecosystem is based on two cryptocurrencies, that keep the system decentralised.
VeChain (VET) is predominately a store of value that can be used to make smart payments. When VET is kept in a dedicated wallet, it will automatically generate interest in the form of VeThor Token (VTHO).
When someone wants to add Infomation to the blockchain, VeThor Token is spent. This is a bit like gas with Ethereum (ETH) transactions in which many people are likely to be familiar.
VET/USD Technical Analysis
The VeChain (VET) price has been a bit of a roller coaster over the course of 2021. With the overall market and notably Bitcoin (BTC) making fresh highs before retracing, the big price movements we've seen with VET are largely a result of the overall market forces at play.
From a technical persepctive, price traded as high as the $0.28 level in mid-April at a time that Bitcoin also reached its all-time highs of around $65,000. Since then, we've seen Bitcoin fall to just above the $30,000 level, while VeChain (VET) has fallen to where it is currently trading at $0.07. While it has fallen further in terms of a percentage move, that is what we have come to expect from most alt-coins.
At this point in time, the most important technical element is the fact that VET continues to make a series of lower highs. That indicates the bearish trend remains firmly in play. We can see that there is a neat downtrend in place and while bearish at the moment, invariably, we will likely see a move through that trendline and back to the upside.
Looking at the key levels, and we can see that $0.06 is a very important resistance turned support level. Price was trying to break through that region in February and it failed multiple times. When that level ultimately broke we saw the sharp exponential move to the upside thereafter.
Notably, price has recently tumbled back and retested that level only for it to hold up strongly. These dips have also coincided with Bitcoin testing the $30,000 level, which indicates the importance of the overall market to the future of VET in the short term.
With the downtrend and key support of $0.06 being prominent, this is normally a bearish technical setup. As such, we will be watching that level closely as it will likely determine the short-term fortunes of VET.
A break under is very bearish and would open the door to a move to $0.05 and possibly lower, with key support/resistance at $0.02.
Whereas a break out of this downtrend would be around the $0.08 level based on the current price action. A move above $0.10 would be very bullish.
For the time being, the price pattern is bearish, however, we do have some key levels that we can use for entry points. I would suggest waiting for a break of these key levels.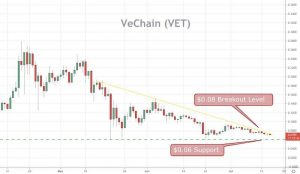 VET/USD – 4 Hour