Preparing Your Forex Strategy for May: the EUR/USD Seasonal Pattern
Sometimes, there are seasonal patterns in certain currencies and with certain forex pairs. We can certainly see a pattern for May in EUR/USD. Looking at the Euro chart from 1994, when the Eku was created (the predecessor of the Euro), we can see that the number of months when the Euro had appreciated during May against the number of months that it had declined is nearly balanced. The declining side is just two points ahead, which doesn´t offer us a clear trend or pattern.
The USD has been in good health during May from historical data in the last decade
That said, the average win/loss percentage for the entire period from 1994 is -2%. To clarify, that means, on average, that the Euro has declined about 2% during May in the last 22 years. But, it's not the best pattern either; the best pattern the chart shows is that in the last ten years the Euro has managed to end the month of May in profit just once. In May 2014, the Euro had a strong reason to decline because the European Central Bank (ECB) president Draghi announced during that month´s meeting that the ECB would start the quantitative easing (QE) program. Apart from that year,  there was no apparent reason for the Euro to decline in the other years, yet it did close nine out of ten months of May in a lower position.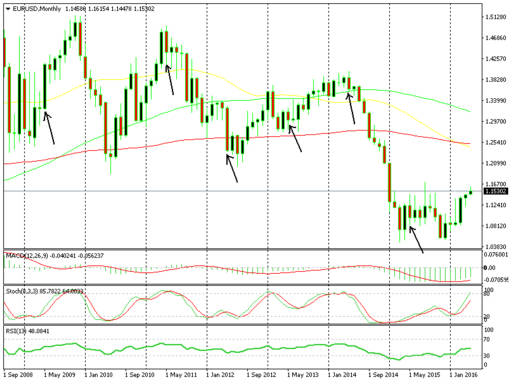 The Euro has declined nine out of ten times during May.
This makes you think that this month will follow suit. In the first two days of this month, the Euro has gained more than two hundred pips, but on the second day the gains were lost as a reverse took place. That makes the daily candle look like a reverse hammer, which means that a reverse in the daily chart is due soon. Add to that the elevated level where the Euro is right now, which makes the ECB itchy – and the bearish scenario is complete. In fact, some ECB members have already made dovish comments so I wouldn´t be surprised to see them become more vocal in the coming days, sending the Euro downward. So what does this pattern for May tells us? Obviously, sell the Euro. I would preferably sell it if it gets near 1.16 again tomorrow… with a stop above 1.180 and target 1.12 as the first target, then 1.10. This pattern falls in line with our two long-term sell forex signals in EUR/USD, so we hope to get some positive results from them and pocket some green pips.