It's Kuroda Again… Aiming at the Stars
The king of comedy is at it again. In the last market update we mentioned him commenting about the inflation in Japan. He said that the 2% inflation target is reachable, although in my opinion the BOJ (Bank of Japan) must aim at 1% first. Hell, even that looks impossible from what we have seen in the last few years.
He is going even further now. Just when I was hoping that no one noticed his last comments which would make him look like a laughing stock, he goes and adds more deliberate comments.
Just a while ago he said that the BOJ will let inflation run above the 2% target. Now to me that sounds like a phrase from the Austin Powers movie. The next line you instinctively wait to hear after this is "and we will rule the entire world".
OK fine, that´s some wishful thinking from Kuroda, but doesn´t he know that inflation needs economic vitality, which the Japanese economy has been lacking since the "90 financial crisis there?
Hasn´t he checked the facts recently? How can a large economy go from deflation and recession/stagnation to plus 2% inflation in a few months? The earnings year/year fell by 0.1%, the producer inflation (PPI) declined by 3.2%, retail sales shrank by 2.1%. The list goes on.
Higher oil prices might throw Kuroda a life line, but they won´t take inflation to 1%, let alone more than 2%. Meanwhile, the Yen doesn´t care for his comments as USD/JPY is 50 pips lower since he started early this morning.
That presents a good opportunity to buy this forex pair at these levels. That´s why we opened a buy forex signal a while ago in this forex pair. The 50 and 100 moving averages on the hourly forex chart seem to be providing strong support, which is another plus for us. Let´s see how it goes.
USD/JPY has been on a strong bullish trend which picked up pace after the FED meeting, although yesterday we saw a retreat
4 months ago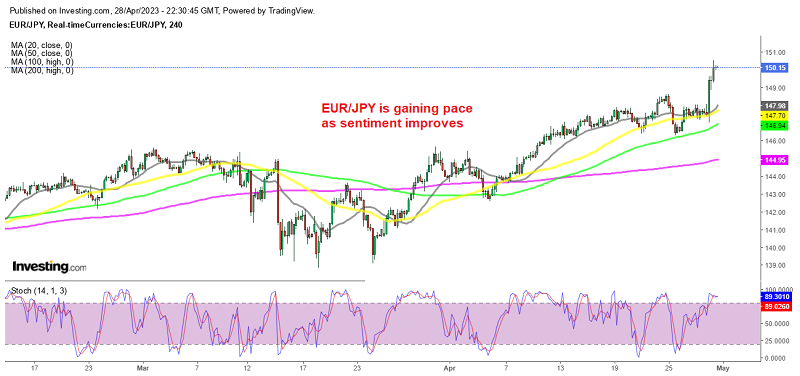 5 months ago