You Never See Them Coming
Good morning, guys. How many of you were up last night watching the forex market? If you couldn´t stay up last night, you can see it today the USD took a beating last night. It opened with a gap lower against the Euro and the JPY and in the first few hours of the morning, it tumbled lower. 
I can´t exactly say that this was a risk aversion move. When the market is running for safety, the CHF pairs usually get hammered, but that didn´t happen last night. In fact, EUR/CHF spiked higher during that move. That was a good chance for another buy forex signal in this pair, but we missed it when the price was around 1.0720, which is the place where we opened our EUR/CHF signals last week.
So, what was it if it wasn´t a risk aversion move? It was just Monday morning trading. The forex market just opened for the Tokyo session, the liquidity was low, some guys wanted to grab a few pips, and this happened. 
The USD lost about 100 pips against the Euro and nearly 170 pips against the Yen, so we can say that this was more of a USD/JPY move, which subsequently affected the other USD pairs.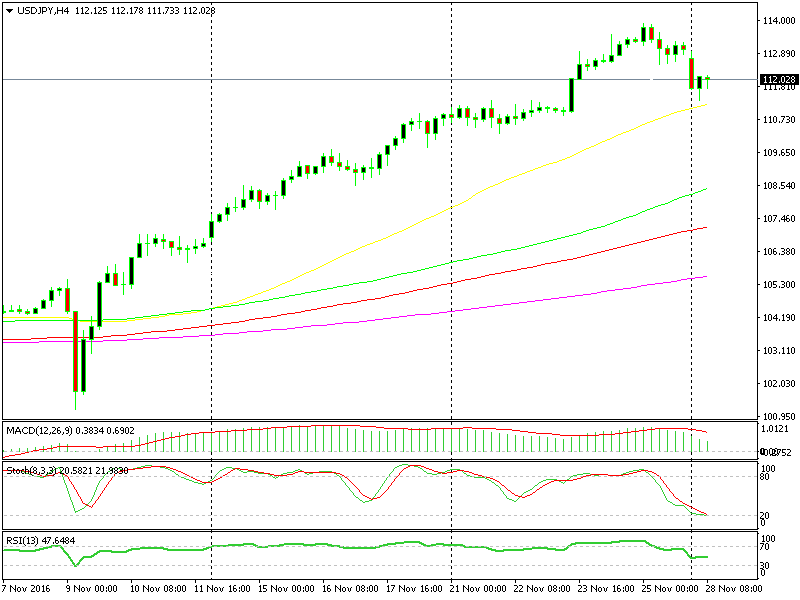 This is the deepest correction since the USD/JPY uptrend started. 
I mentioned, guys, that the retraces after such strong uptrends, such as the recent move we have seen in the USD, can be brutal. They start as a normal pullback, then they pick up pace as forex traders close their long USD positions due to fear, and the next thing you know, everything has turned into a snowball. 
That happened last night and we were caught in the middle of it with two forex signals. We had a NZD/USD signal opened from last week and we thought it would be a good selling opportunity when EU/USD reached the 1.0620 level. But the USD selling continued and here we are. 
It´s unavoidable to get caught in these sort of pullbacks because you never know when they are coming. That´s why we´ll be more careful now, until the retrace on the larger timeframe USD charts. 
Durable goods orders showed a 0.2% increase in August, against -0.5% expected and July's -5.2% decline, which was revised to -5.6%
14 hours ago