Weaker Retail Sales Can't Move the FED
Posted Wednesday, December 14, 2016 by
Skerdian Meta
• 1 min read
Yes, today's US economic data can't keep the FED from hiking the interest rates but it can change the FED economic outlook for the coming year. Last December, the FED promised 4 rate hikes for 2016, but not long after we knew that, those guys were going to eat their hat because the US and global economic data didn't support this idea.
So, that's why the recent data might not move the USD right now but it will surely lay the foundations for what's to come after the FED is done this evening. It has already been the focal point for the FOMC statement which will be attached to the rate hike today and the tone of the statement is what will decide the direction.  
Although the retail sales increased last month, they missed the expectations by 2 points and the previous numbers were revised 2 points lower, too. That's obviously not good but retail sales are quite volatile, so I can't put my hand on fire over one report alone.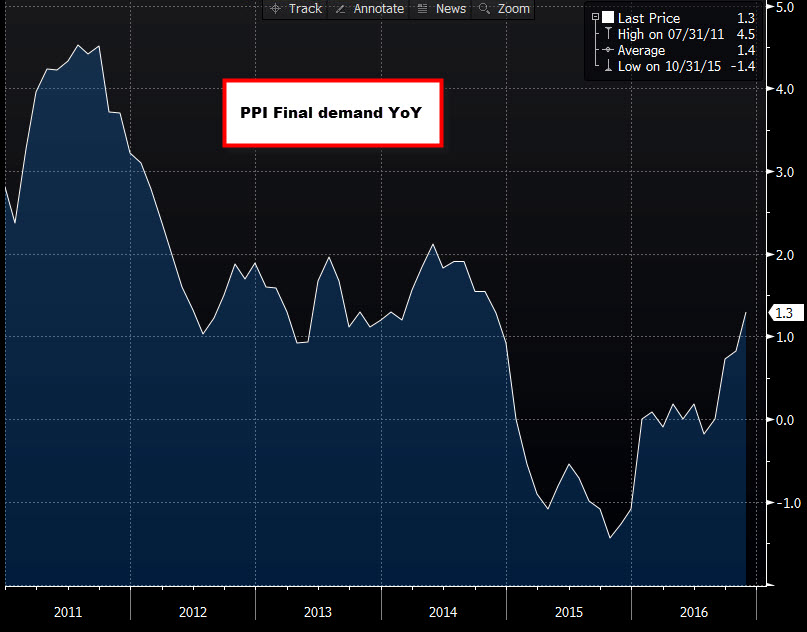 There´s still some way to go, but the US PPI is heading for the highs
Inflation seems a lot better since the producer price index (PPI) came out 3 points higher than expected and 4 points higher than the previous month. To me, this report is slightly positive but the forex market is really numb right now. So apart from a small tumble, the USD pairs remain unchanged.