EUR/CHF – SNB Comes to Our Rescue Again
Posted Wednesday, December 21, 2016 by
Skerdian Meta
• 2 min read
As you might have noticed, we have three open EUR/CHF signals. One of them is a long term forex signal which we opened last week when this forex pair tumbled after the ECB announced more QE. The other two are short term forex signals; we opened the first one on Monday around 1.0720, which has been the top of a resistance range last month, while the second one we opened further below when the price was close to 1.07.
This is a strong support area for this pair, but the ultimate support and the line in the sand remains at 1.0780, give or take a couple of pips. The SNB (Swiss national Bank) was also spotted buying with heavy loads around here. So all in all, it seemed like a good idea to open those forex signals where we did.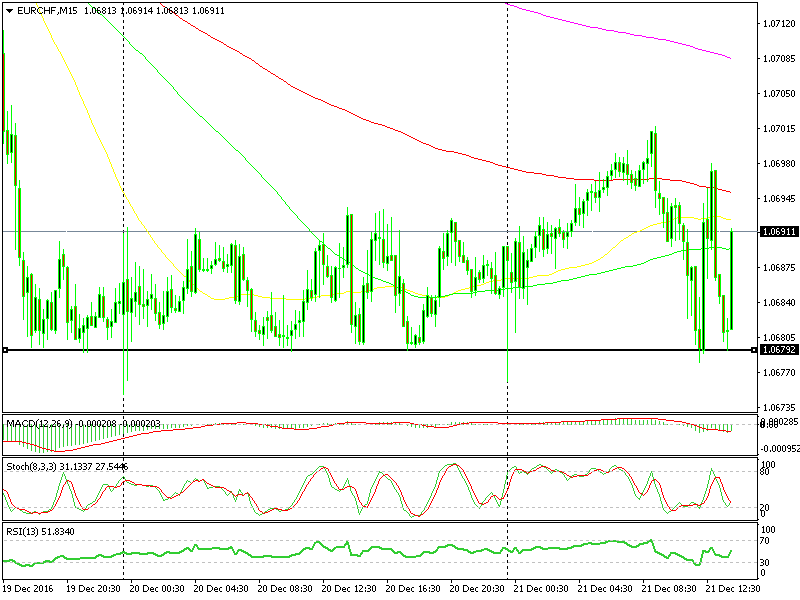 This is the line everyone is looking at
However, EUR/CHF sellers have been so consistent, breaking level after level, thus peeling the layers off this support area. This obviously goes against our signals, but there´s comfort knowing that the very bottom of this range, the 1.0780 support level, has stuck its foot in the ground. We have seen the sellers have so many attempts at this level in the last three days, but without success.
Actually, it´s the SNB that´s doing all the hard work. It has done it last month and looks like it´s doing the same now. As you see, the jumps from 1.0780 were smaller on Monday but they´re getting bigger now. We see that only this morning the SNB has intervened twice.
Hopefully, the CHF bulls (EUR/CHF sellers) will be discouraged by this and finally give up. The US has been urging countries with trade surplus to stop currency intervention (manipulation) and today´s 21 billion CHF trade surplus won´t help the Swiss to justify CHF manipulation. Well, it suits forex traders like us so keep rolling SNB.