EUR/CHF – Beat It While It's Still Hot
This forex pair has been like a milk cow for us. Surely we have had a couple of losing forex signals here about a month ago when this pair was sliding down from 1.09, but we have had so many winning signals that our profit has exceeded losses several times.
Last Friday's spike and then the dive that followed opened the door again for us to trade this forex pair. The 1.07 support level is so tempting that we cannot stay out of the market when the price gets close to it.
So, that's what we did today. We opened a buy forex signal as the price approached this level, twice. We opened a buy signal last night when the market opened and it was closed overnight when this pair managed to crawl about 30 pips higher.
This morning we opened another buy EUR/CHF signal as the price approached that money making level again. That's the one which is live now on our signals page. The relentless decline in EUR/USD this morning is not making things easier for us, but that goes more for our EUR/USD signal because the EUR/CHF signal is safe as long as the price remains above 1.0680, and especially above 1.07.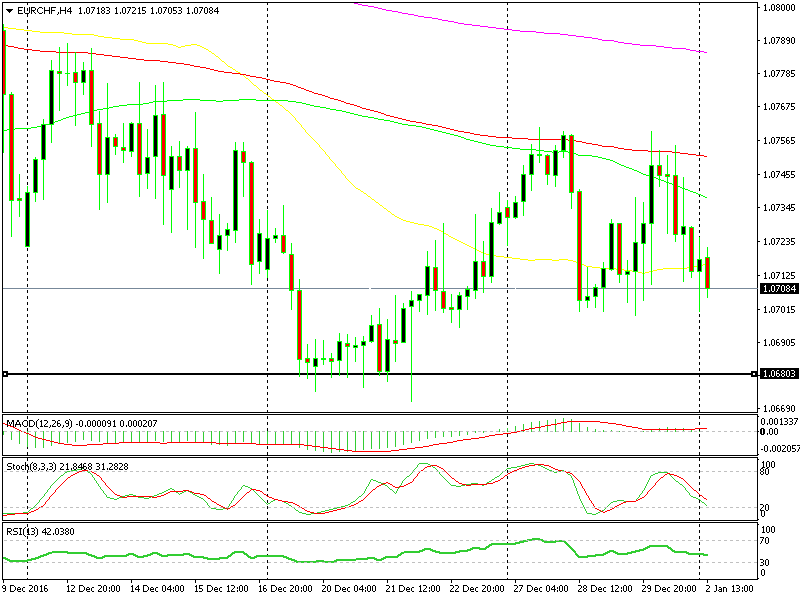 Another opportunity to trade EUR/CHF
The H4 forex chart seems pretty good since both technical indicators at the bottom of the chart are nearly oversold. However, that's not what we are basing our forex trades on when it comes to EUR/CHF. We know that this is the red line for the SNB (Swiss National Bank) and their winter holidays are already over so they're back protecting this level, otherwise we might have decided to stay clear until tomorrow.
Everyone in this business remembers what these guys did to the forex market 2 years ago. These big levels are like milk cows for retail forex traders like us, but when they go, they take half the traders down with them. So, knowing that the SNB has our back is quite reassuring, although we must always be prepared for the worst.