OPEC Pushes Higher, USD/CAD Pushes Lower
A number of OPEC officials and officials from OPEC countries are on the wires this morning. I don´t know if there is a meeting taking place somewhere because I haven´t heard anything, but those guys are all over the place and the Loonie is loving it. 
OPEC´s Barkindo announced that the monitoring committee will hold the first meeting on 22nd of January. Its duty is to check if the OPEC members are complying with oil production cut quotas. 
From what I´ve heard/read, the cartel will review the production deal in May, when they will decide if more production cuts are required to get the oil prices where they want them. The problem is they don´t know themselves where they want the prices. 
The Kuwaitis are all happy with the current oil prices, while the Saudis want to cut further and push the prices higher, that´s what I´m sensing from them. 
The Canadian Dollar is loving it. USD/CAD just broke below the 100 moving average (100 SMA) in green on the weekly forex chart. Looking at the recent history, we can see that this moving average has been holding the price above throughout last year, so that might be a turning point judging by the technical analysis.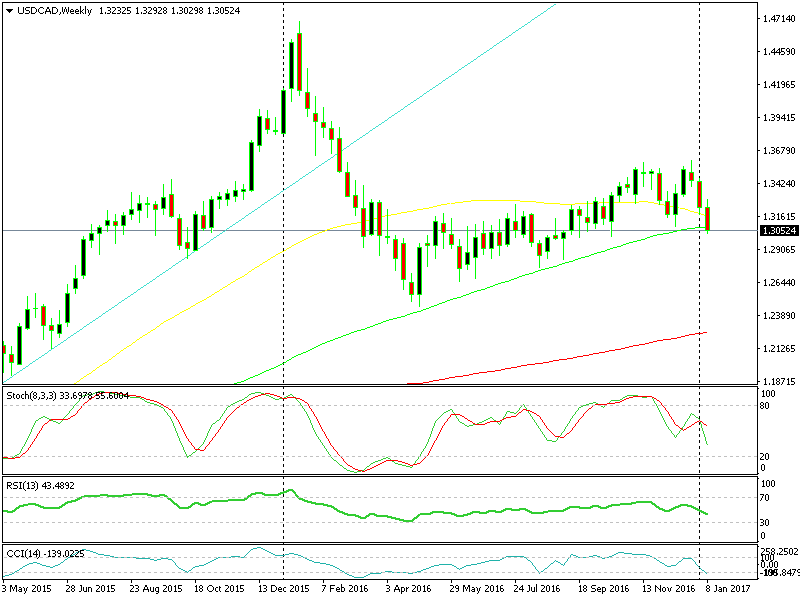 USD/CAD is headed down. 
Personally, I don´t like to short this forex pair here because the US economic recovery and monetary policy are too far ahead than their northern neighbours, so I´d like to look for a place to buy it. The area around the 200 SMA on the monthly USD/CAD chart looks like a good place since last year´s low is not far from that. 
By that time, the technical indicators on the weekly chart will become oversold. This will increase the odds of a reversal. After all, this downward momentum which has been fueled by higher oil prices and the weak USD is too strong at the moment and I don´t want to try catching a falling knife. 
So, lowering it is for me regarding the long term buy signal. We will reevaluate this forex pair again at 1.30 though, as it slips lower.