The NZD/USD Signal Survived An Overnight Shock
Last evening, we opened a buy forex signal in NZD/USD for a few reasons. First, the trend was heading up and it was strong. Besides that, the stochastic indicator was oversold on the H1 forex chart and the 20 SMA in grey was providing support as well.  
But luck was not on our side. Not long after opening that signal, the Australian inflation report was released.
As we know, the two pacific countries are closely tied to one another in almost everything. So when we see disappointing numbers in Australia, the Kiwi suffers too. 
Last night´s Australian inflation data missed the expectations, although it wasn´t terribly bad. Yet, the AUD pairs dived quickly for about 100 pips.
However, the NZD held up pretty well, though.  It surely lost a handful of pips as the overnight bearish candle indicates, but that was it. At least that went in our favour for the NZD/USD signal.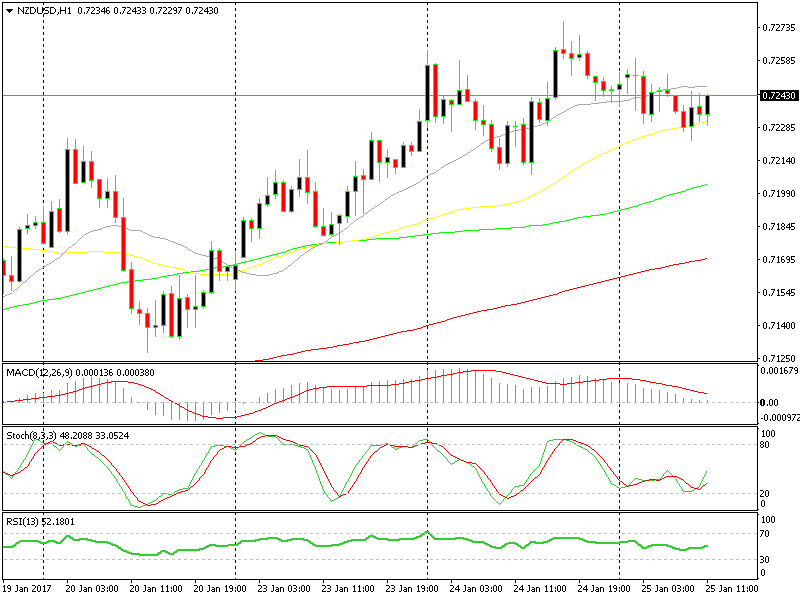 Moving averages provide solid support and resistance; that´s why we like to use them. 
During the night, the price slipped further but the next moving average provided the second line of defence for us. The 50 SMA in yellow kept the sellers at bay and at the moment, it looks like we´re starting to reverse. 
The USD retrace, which has taken place overnight, seems to be over and the uptrend is resuming again. Obviously, that´s great news for us. This battle is not over yet by far, but we survived the first attack and we´re on the attacking side now as the uptrend resumes again.
But first, we have to break above the 20 SMA, which has now turned into mild resistance. Fingers crossed and let's look for some other potential trades.