Catch the Aussie While You Can
Pop goes the Aussie in a few minutes. It was hanging around yesterday´s lows all morning today after following the Kiwi down the drainage during the Asian trading session.
The 100 SMA in red on the hourly forex chart did a good job in keeping the sellers at bay during these past few days, though. So the move higher was sort of expected at some point. 
The RBA (central bank of Australia) governor, Lowe, was that point and the Aussie took off as soon as he wrapped it up. Although I don´t think he will go to that Aussie bed a happy bunny with the recent positive market sentiment towards their home currency. 
Well, the forex market only cares about itself. AUD traders got relieved that there were no real dovish comments and here we are now in no time.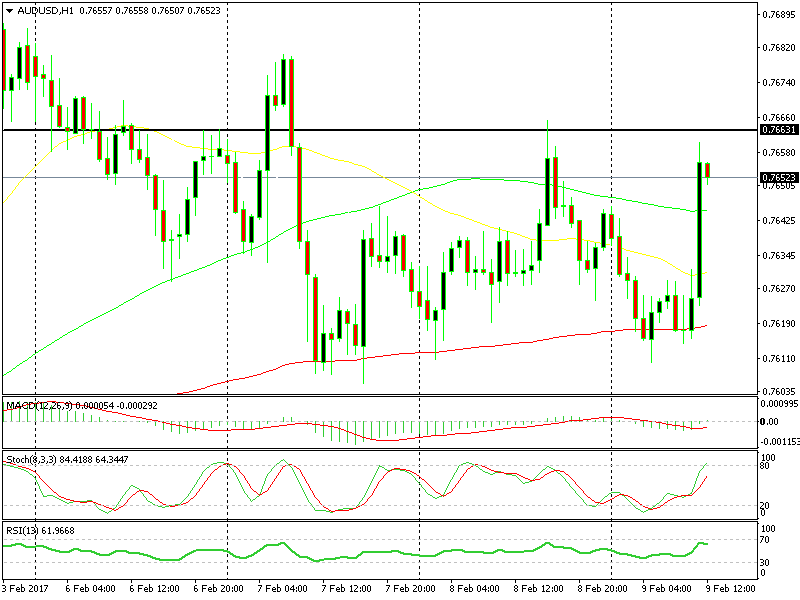 Should I sell or should I go?
The price right now is in the 0.7650-60 area where we opened that sell AUD/USD signal yesterday. I´d like to open another forex signal up here but the market sentiment has shifted from yesterday. 
So, I´m not that confident in selling this forex pair right now. It will also depend on the Buck. The US unemployment claims are on the economic calendar in a couple of hours so keep an eye there too.