Last evening, I was following the forex market during the USD rally, which lasted until the afternoon. EUR/USD declined to 1.0515 and if you remember, I highlighted the 1.05 level as a possible entry level for a short term buy signal in this forex pair.
But the price didn't reach that low. It reversed at '15 after making a doji on the hourly candle, as you can see on the H1 forex chart below. We missed the chance as the price climbed to 1.0570, but what goes around comes around.
The 1.0560-80 area has provided some sort of support and resistance previously, so I thought that it might do so once more.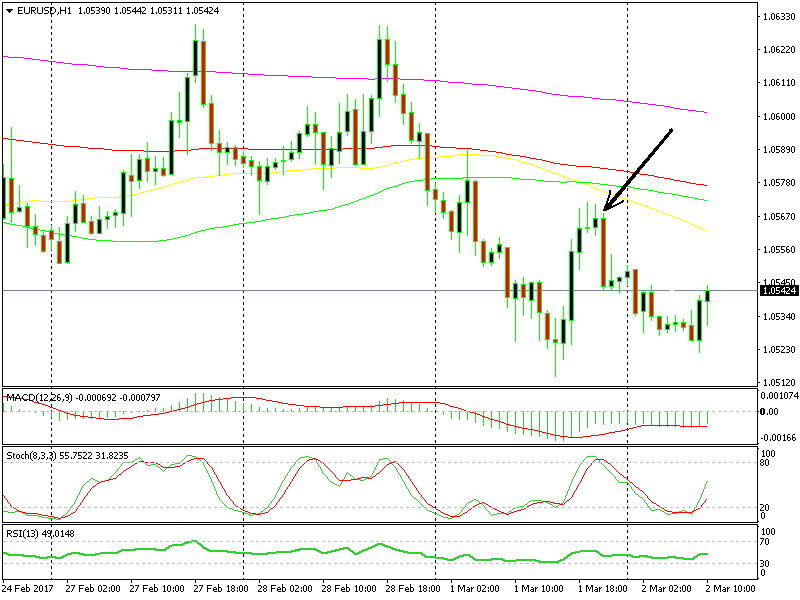 That looks like a good selling spot, right? 
After following the price action for a couple of hours, I saw that one of the hourly candlesticks closed as a doji, which is a reversing signal. Besides that, the stochastic indicator reached overbought levels, so that was another sign to open that forex signal.
That's enough signs to sell EUR/USD, particularly since this pair had already completed the pullback lap because the other major currencies were all having trouble against the Buck yesterday.
But before pulling the trigger, I decided to check the H4 chart just to be sure. This timeframe chart wasn't overbought, but the 50 SMA was standing right at 1.0575, so that was the ultimate signal. We opened that forex trade and I woke up this morning with a winning forex signal. Good start to the day, so let's hope we carry on like this.