With GBP being on the back foot today, it´s no surprise to see EUR/GBP climbing higher. In fact, this has been the case for quite some time now. A couple of weeks, actually. Therefore, let´s see where the levels are (support in particular) in order to prepare for a possible trade.  
Moving averages are so helpful, aren´t they? 
EUR/GBP
Resistance – We´re approaching 0.87, but we´re still stuck at 0.8680 which is some kind of resistance on its own. Of course, 0.87 is a considerable level just for the reason that it´s a big round number.
Above there comes 0.8730 and 0.8750, but considering the price action of the last couple of weeks in this forex cross and in EUR/USD and GBP/USD, I wouldn´t trust these levels too much for a sell forex signal. So take it at your own risk, but then again, that´s what we do all the time in forex and in life, isn´t it?
Support – Support is more obvious in this forex pair since we´re going up and moving averages are following the price. The first support level is provided by the 50 SMA on the H1 chart which comes at around the 0.8650s. It brought an end to the retrace lower this morning and I´m thinking of opening a buy forex signal if we get back down there again today.
Below there comes the 100 SMA in green at 0.7620-30. That level provided support twice yesterday which makes it even more reliable for another buy signal in case we dip that far.
0.86 is a big round number so it must not be left out of this technical analysis, particularly since it has been the high during the entire month of February. 0.8550 is also a very strong level, but that´s quite a huge leap in such an uptrend. 
We decided to open a sell EUR/GBP signal after the bounce today, as German GDP posted a decline in Q4, ahead of the ECB meeting
3 days ago
EUR/USD has gained 14 cents since October, but might be time for a bearish reversal as economic dat improves in the US
3 days ago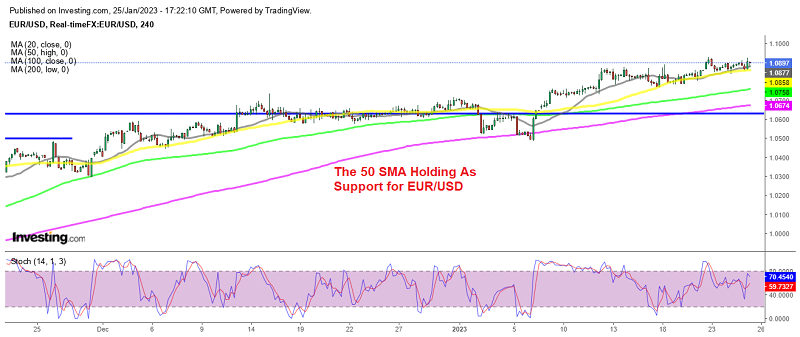 1 week ago