How Are Commodity Currencies Doing?
Yesterday we opened a forex signal on NZD/USD during the London session as this pair retraced from the previous night´s lows.
But the retrace continued to move higher and the 20 SMA (gray) that we were counting on for resistance, soon turned into support. That said, we´re below that moving average and all other moving averages on this timeframe chart. 
But we didn´t stop there, we opened another sell signal on AUD/USD late in the evening. The chart setup looked favorable for shorts since we were banging against the 50 SMA (yellow), while the hourly chart was severely overbought.
So, we sold AUD/USD and during the night the price came within 5 pips of our TP. Right now though, we´re seeing some bids in this forex pair which have taken the price back to the opening levels.
The 20 SMA is scaring the buyers
But, if we switch to the H4 chart, the picture seems brighter for sellers like us. In fact, both our signals on the commodity block currencies look pretty good on the H4 timeframe chart.
The stochastic indicator is overbought on both of these forex pairs on the H4 timeframe, so that means that the retrace up is over.
Besides that, the 20 SMA is providing resistance to the AUD/USD, so this is another technical indicator working in our favor.
In the NZD/USD H4 chart, we see that the timeframe of the moving averages which have been providing resistance lately has been getting smaller and smaller. It was the 100 SMA (red) which was providing resistance first, then it was the 50 SMA (yellow), and lastly, the 20 SMA is currently resisting the price.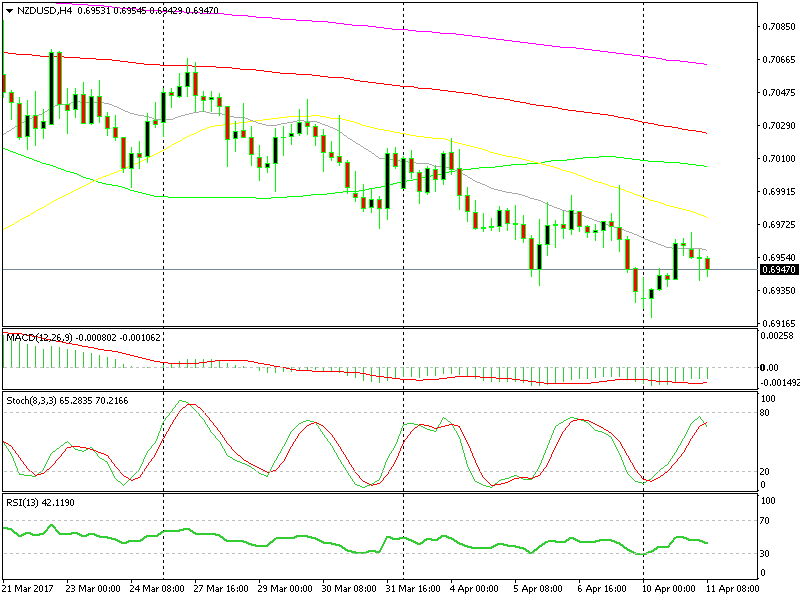 Stochastic is well overbought
So, we can say that the downtrend is picking up pace. Let´s hope it doesn´t take too long and our signals reach TP soon. That would free some equity for us so we can look for other opportunities.
Speaking of other opportunities, the UK inflation report is up next. My gut feeling is telling me that the decline would be a lot bigger if the numbers disappoint than the jump if the report was positive. Personally, I´d look to sell even if GBP/USD jumps after a positive report.