USD/CAD Approaching A Long Term Level – Analysis Favors A Reverse
Oil has been falling for the last five days with WTI down more than $2 and Brent Crude down nearly $3. There´s no clear reason for this because market sentiment is not horrible, despite USD/JPY breaking below 1.10 last week.
Actually, there seems to be something strange going on in the financial markets right now. As my colleague Arslan mentioned in of his posts, the USD has been getting weaker over the last several days, but so has Gold, which is supposed to go in the opposite direction.
Besides that, Oil and USD/JPY has been falling as well. We know that these last two financial instruments fall when market sentiment turns sour, while the Gold surges. So, what´s going on? 
Perhaps it´s just a chaotic correction or perhaps it´s just the financial markets shuffling the cards. However, one thing is for sure, the Canadian Dollar is going against fundamentals.
Yes, Oil has been falling and CAD has been following suit, but to me this looks unreasonable because fundamentals favour them both.
2 REASONS FOR THE CAD TO RUND BULLISH (USD/CAD bearish)
First, Oil – OPEC members have been respecting their Oil output quotas to keep the price stable. I heard that today they´re meeting with non-OPEC producers to extend the deal and probably include more countries. Remember, CAD follows Oil.
Second, CAD – the economic data in Canada has improved considerably and the BOC (Bank of Canada) will be forced to acknowledge this soon.
Apart from the 2 fundamental reasons, there´s also a strong reason to have a bearish bias towards USD/CAD (bullish CAD); we´re approaching a big resistance level. 1.3600 provided resistance twice in November and December last year and it´s likely to do the same now.  
We´re getting close to 1.36
We´re more than 100 pips below there at the moment, so, we´re waiting to get closer to it. By that time, the correction in Oil will be over, because to be honest, the latest tumble in Oil prices looks more like a correction to me.
By the way, we will make sure you won´t miss the chance when the price gets there because we will open a long term forex signal and you´ll get the notification.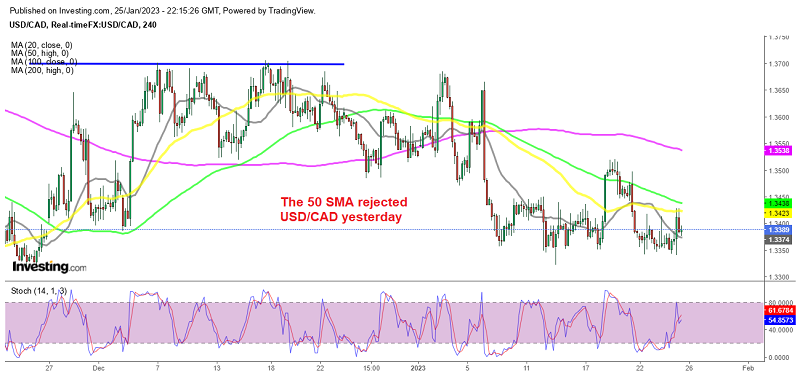 23 hours ago
Overnight we had the CPI consumer inflation report from Australia, with AUD/USD being on a bullish trend for a few months
2 days ago