Commodity currencies, particularly the Kiwi, have been enjoying some good times lately. NZD used to be the weakest currency among the commodity currencies when they were in a downtrend last year. However, now it has turned out to be the most resilient.
Last night NZD/USD climbed more than 50 pips higher during the Asian session without any apparent reason, while the Aussie remained unchanged during most of that trading session.
We can blame Westpac consumer sentiment for the climb in NZD/USD, but I doubt it has anything to do with it. I think it was just the price action.
So the market's love for the Kiwi has been around for quite some time now. However, since the European trading session began, this forex pair has been sliding.
We briefly broke below the 20 SMA on the H1 forex chart, but the price found support at the 50 SMA on the 30 min chart and it´s been crawling since then.
Since the Kiwi has been quite upbeat and the recent dip is deep enough, I think that going long around here would be a good trade.
The hourly chart is oversold as well, which is another reason to go long. So, I´ll wait for the price to slide about 10-15 pips lower before opening a buy forex signal in order to get a better risk/reward ratio.   
AUD/USD has made a strong bearish reversal despite increasing inflation in Australia, but sellers are facing the 50 daily SMA now
2 days ago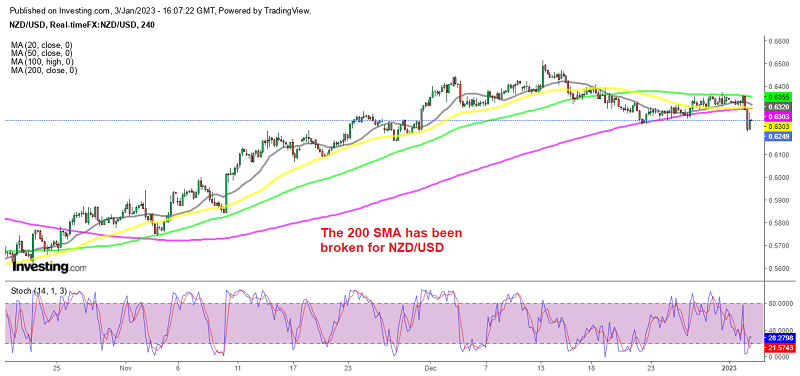 1 month ago