Forex Signals U.S. Session Brief, Sept. 26 – Strange Market, Cryptocurrencies & Safe Havens in Demand
Cryptocurrencies are the opposite of safe haven assets; when one goes down the other usually goes up. But since yesterday both of these groups have been climbing higher. What's going on in the forex market?
Can safe haven and risk assets rally together?
Is Mario Draghi Long on Bitcoin?
Bitcoin has appeared out of nowhere nearly a decade ago and many more cryptocurrencies have been born since then. Central banks have had nothing to do with them, but the massive popularization is forcing them to take notice.
Draghi addressed the cryptocurrency market yesterday saying that "it is not on the ECB power to regulate or prohibit Bitcoin."
That couldn't have come at a better time for cryptocurrencies as they have been consolidating for the last few days, waiting to pick a direction and Draghi made that direction clear as day for cryptocurrency traders.
It didn't take long, and Bitcoin surged higher, pulling all cryptos higher with it. Crypto traders expect negative comments from central bankers regarding safety, so when one of the main guys gives the crypto market the green light, that's taken as a signal that the new digital money will be around for a long time.
So, the cryptocurrencies have been climbing higher today, and I have a trade idea about Bitcoin, which is explained in the trade section below.      
By the way, if you haven't chosen a broker to trade cryptocurrencies, here are a few which we recommend. 
Is the Retrace in Safe Haven Assets Over?
Yesterday, the situation with North Korea escalated as the Supreme Leader of the Universe declared war on the US.
Safe haven assets surged higher with Gold climbing around $25 while USD/JPY dived to 111.40s from 112.30s.
But, we thought that this was just another comment from the lunatic asylum, so we saw this dive as an opportunity to go long on USD/JPY. That signal hit take profit just now, meaning that the retrace for safe haven assets is over now.
We also highlighted a trade in Gold on Friday and that trade evolved pretty well in the last couple of days. Gold found solid resistance at the 50 SMA (yellow) on the daily chart, and it climbed $25 yesterday.
The 50 SMA worked well this time.
If you took that trade then you must have made some nice profit, but would suggest that you lock it at breakeven or even take some profit off the table because I have this feeling that Gold is going to slip lower in the coming days.     
Trades in Sight
Bullish Bitcoin
The trend is bullish
Fundamentals are hawkish (remember Draghi)
The momentum is bullish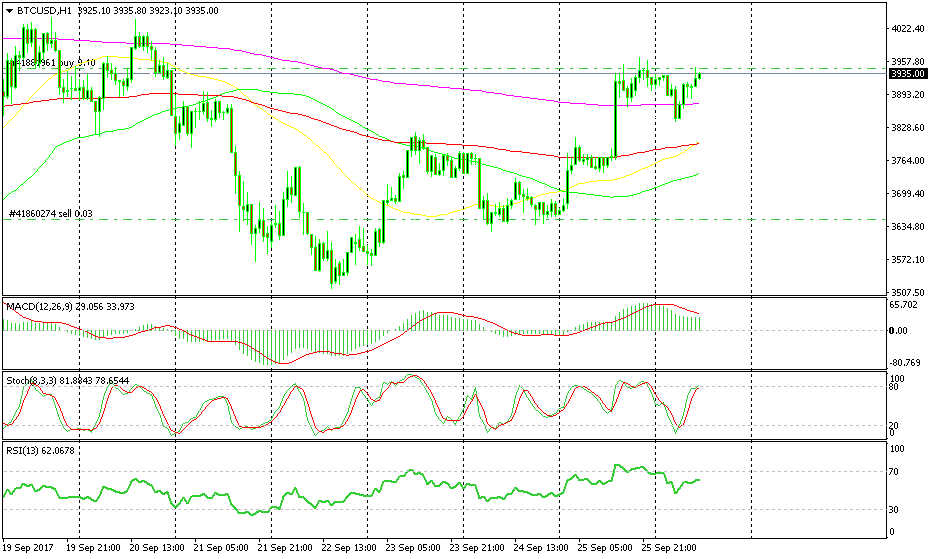 The buyers still can't break yesterday's high.
We missed the jump in cryptocurrencies yesterday as Draghi's comment about Bitcoin came as a surprise, but I'm looking to go long on Bitcoin today.
We cannot buy right now because we're just below yesterday's high, and the price action suggests that there is some sort of resistance up here.
Besides that, the stochastic indicator is overbought. So, I'm waiting for a retrace, probably at the 200 SMA (purple) on the H1 Bitcoin chart.
In Conclusion
The forex market has been a bit of a mixed bag today, with cryptos considerably higher. The safe havens were advancing until a few hours ago, but they formed a top which we used for our USD/JPY signal. Now let's get back at the market and see if we can pull more trades today in this sort of market.