Commodities Are Resuming the Downtrend Today. Let's Stay Bearish
Commodities have been sliding lower in the last month or so, and they have dragged down commodity currency with them. The Kiwi and the Canadian Dollar have been leading the decline in "com dolls" (commodity dollars).
Yesterday though, com dolls were trading in a range. That made it a bit difficult to have a winning trade since the range was pretty narrow, hence our NZD/USD signal lasting more than 12 hours.
Today, the downtrend has resumed in commodity currencies, and the Aussie is leading the way this time. Perhaps, AUD/USD sellers want to catch up with NZD and CAD traders.
Waiting to climb up to the two moving averages, so we could short NZD/USD again.
NZD/USD and USD/CAD started moving a little later, but they are catching up with the Aussie. The Kiwi formed a big bearish signal overnight, and it kept sliding beyond the take profit level of our forex signal here.
Now, the picture has turned really bearish for commodity dollars, so we're looking to sell them again. Personally, I am waiting for a retrace up in NZD/USD or AUD/USD in order to go short again.
The two moving averages around the 0.6960 level in NZD/USD seem like a good place to go short, so I'll wait until we get up there and then sell after checking the price action.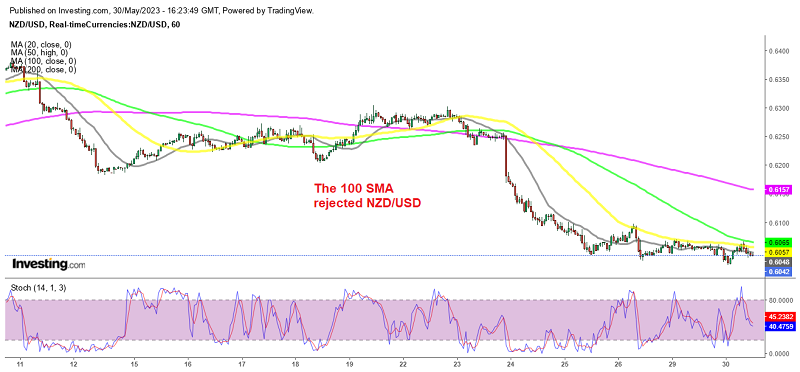 2 weeks ago
The Reserve Bank of New Zealand raised interest rates yet again early today
2 weeks ago