Trying EUR/GBP Shorts for the Second Time This Week
Posted Wednesday, November 22, 2017 by
Skerdian Meta
• 1 min read
Last Friday we opened a short position on EUR/GBP because this forex pair was retracing higher on the H1 chart. We put our trust on the 50 and 100 simple MAs which did a decent job providing resistance on top, eventually reversing this forex pair lower.
We got our pips on Monday morning from that forex trade, but there have been a couple of other selling opportunities in this pair which we haven't taken advantage of. Today we will try to pocket some more pips by selling EUR/GBP again.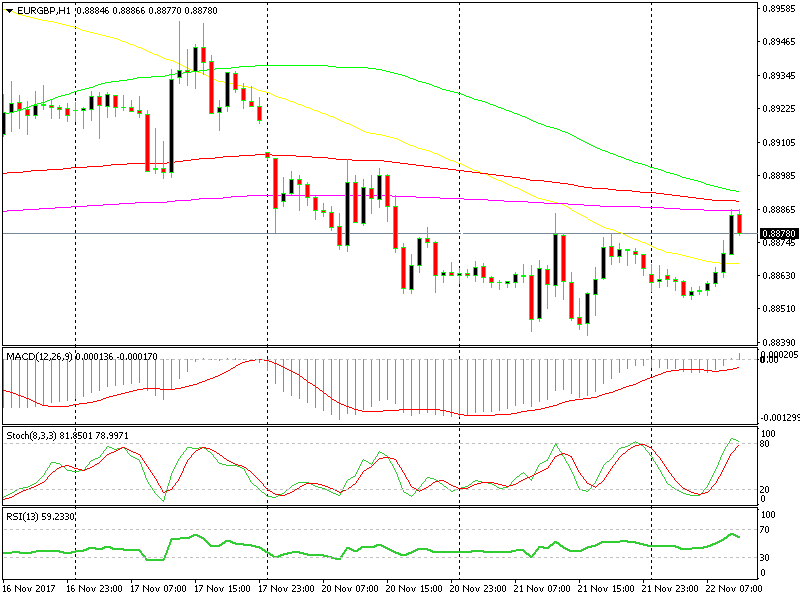 The moving averages are doing their thing again today.
This pair has been retracing higher overnight and it has reached the 100 and 200 smooth moving averages (red & purple) on the same timeframe chart. These two moving averages are now providing resistance. We can see that the moving averages have caped the price on the top side this week, so it was likely that they would do the same today.
As we can see from the hourly EUR/GBP chart, these MAs are providing resistance on top once again. We opened our sell forex signal at the 200 SMA and the price has already started to reverse. So, our signal here is looking pretty good.
The stochastic indicator is overbought and headed down, which is another bearish sign. We are sliding down slowly and I hope we reach the TP level before the UK Autumn Forecast Statement is released in a few hours.