Com Dolls Feel Energetic Today! Bullish NZD and AUD?
Yesterday, we opened a sell forex signal in NZD/USD. The chart setup looked bearish and it worked for some time. At some point, we were about 20 pips in profit with that signal. But, the RBNZ (Reserve Bank of New Zealand) Governor Spence had to pop up and say some gibberish. That sent the Kiwi surging higher in the early hours of the morning.
A similar thing happened with the Aussie as this forex pair climbed around 60 pips. The Australian retail sales beat expectations this month and last month was revised a tick higher as well, which is a positive thing nonetheless. The statement from the RBA (Reserve Bank of Australia) surely played a role in this as well.
Another important factor for this unexpected surge in commodity Dollars was the increase in the Chinese services. The number from this sector came at 51.9, which is considerably higher than expectations. At this level, the service sector seems to be safe from contraction.
The New Zealand and particularly the Australian economies are closely tied to the Chinese economy, especially the manufacturing. China gets most of the raw material from Australia and New Zealand. I know the data today came from the service sector, but it is a strong sign that the Chinese economy is doing OK at the moment after a period of weakness several months ago.
The Kiwi has turned bullish today
So, the fundamentals turned bullish for the AUD and the NZD and today AUD/USD and NZD/USD have been bullish. Thus, we have to turn bullish on them too. An opportunity to go long on NZD/USD appeared an hour ago which we missed, but if this pair slides again to the 100 SMA (red), I'm sure we will be persuaded to open a buy forex signal.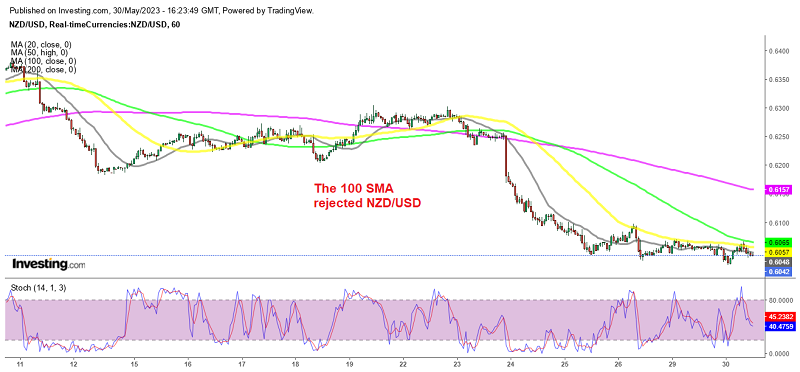 4 hours ago
The Reserve Bank of New Zealand raised interest rates yet again early today
6 days ago