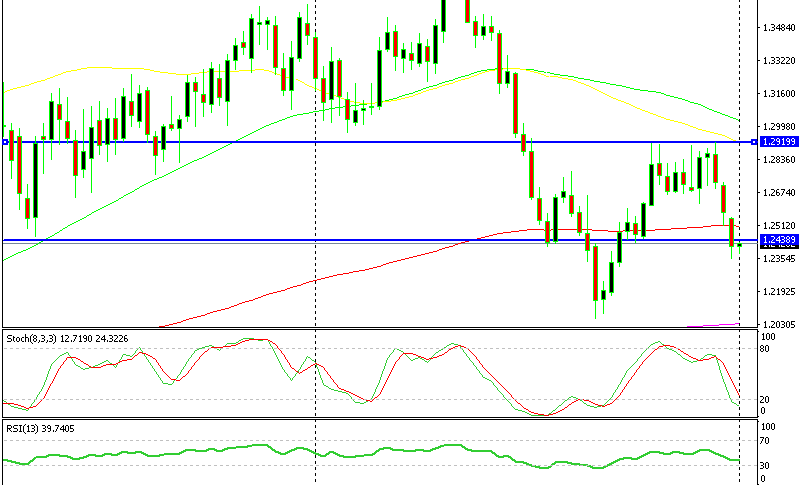 The Perfect Reverse at the Perfect Resistance for USD/CAD, but Now Faces a Challenge
The USD/CAD has been trading on a steep uptrend for approximately two weeks now. Two weeks ago, the buyers were banging their heads against a major resistance level, but as we now know, they couldn't break above it.
The area around 1.29 had formed a resistance in the last two months, making it a big resistance level. It is also a big, round number, but the main reason for this level to become a resistance is the 200 SMA (purple) on the daily chart. Big guys use the bigger moving averages on the larger charts, such as the daily and weekly timeframes. They've been looking at it, hence the strong support around it.
This forex pair has lost about 550 pips from top to bottom since then. The fundamentals have played a big part here as wel; we have seen some decent numbers from Canada, while the sentiment towards the USD has deteriorated.
The resistance at 1.2920-40 worked perfectly
The sellers are now facing another large level, but this time on the downside. The area around 1.2429-40 is a long term support level. The stochastic indicator is also oversold on the weekly chart, which means that the downside is quite stretched. That being said, we shouldn't rule out a reverse or a decent pullback higher.
Due to the fact that the decline looks quite likely here, I have decided not to go long on this pair with a long term forex signal.  The business survey from the Bank of Canada (BOC) that was just released is less than half of what it was last month, however, the market is still thinking that the BOC will hike the interest rates next week; things are messy at the moment.