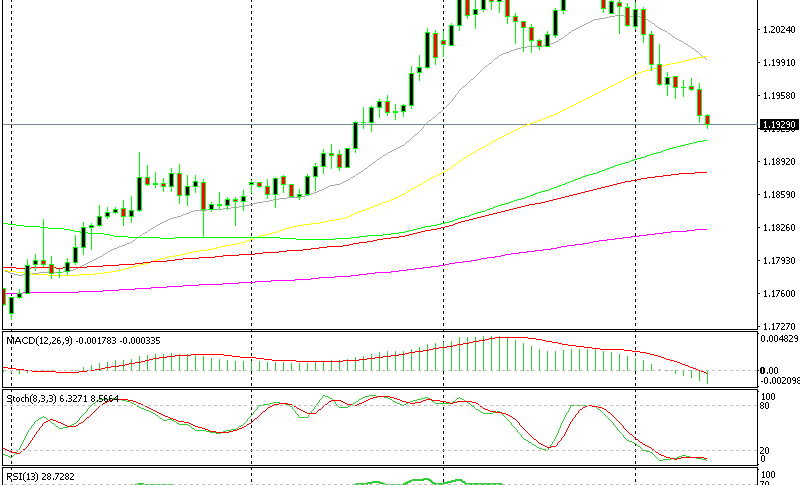 EUR/USD Continues Its Slide. Did We Miss the Boat?
EUR/USD has continued to move lower still today, after losing approximately 130 pips in the last two days. As it has been climbing higher for a few weeks, this is very surprising. Over the last several weeks, this forex pair has been relentless, and it seemed as though nothing would stop its climb. Perhaps the current uncertainty in German politics is an affecting factor, but it will be over soon.
It now seems like nothing can stop the slide. There haven't been any important economic releases during this time,  and yet this forex pair has been continuing to plummet since Friday, without any pullbacks whatsoever.
Support levels and moving averages have been broken without much resistance. Yesterday, an update on this pair was posted. We highlighted the 20 SMA on the H4 chart, which was broken for the first time in 4 four weeks. The price was standing above the 50 SMA at the time, but that moving average didn't work either.
The 100 simple MA (green) is next now
This forex pair is moving lower still, and it is heading for the 1.19 level. Although this is a high level,  based on the way this pair has reversed down in the last few days, it isn't too intimidating for sellers anymore.
I was looking at the 1.21 level as the reversing point, so did we miss the boat now that this pair is nearly 150 pips lower?
Even if 1.19 holds and reverses back up, we've certainly missed these 150 pips. That being said, I don't believe that this is the end for the EUR/USD bulls. It is very likely that Angela Merkel will form a coalition soon. That may well be the time we see the Euro make another jump higher, which would also present a great opportunity to open a long term sell trade/signal. My hope is that the price gets as close to the 1.21 level as possible. It will make the risk/reward ratio very favourable for shorts.
Risk assets tumbled lower this week, as bank problems escalate, although there was a slight improvement toward the end of the week
2 days ago