Cryptocurrencies Resume the Downside As Bitcoin Dives Below the 100 Daily SMA
A while ago we highlighted the 100 daily SMA (green) on Bitcoin. Thie moving average has been providing support for this cryptocurrency last week, and it is standing above the big round $10,000.
A few hours ago, this moving average looked too far away as the price was hanging $12,000. But in the last few hours, Bitcoin and other major cryptos took a dive lower. I don't see any real reason for this dive, so it's just the market.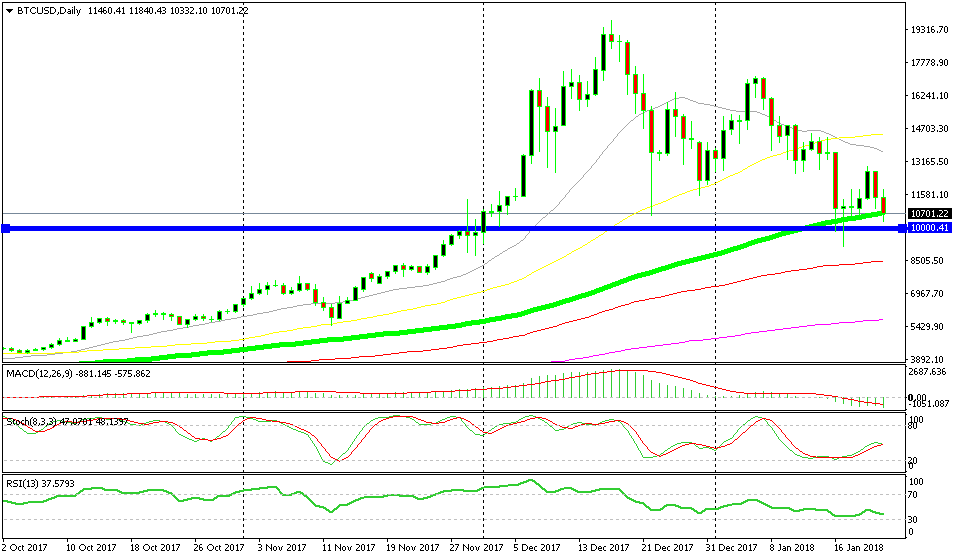 Bitcoin has already retraced above the 100 SMA
I did say in the previous forex update that the crypto market is unsure what to do. On Friday we saw a decent jump which took Bitocin to $13,000. Yesterday and today, we are seeing some downside action, although not going anywhere soon anyway.
The $10,000 level remains intact as support, despite being pierced last Wednesday. The low today so far is $ 10,300. The price is just below to the 100 SMA now, but by the look of it, it seems as today will close above this moving average.
It will be bearish signal if this moving average gets broken today, but the $10,000 still remains. So, I would give Bitcoin another go from here on the long side if we didn't already have a long term signal here. But, you can play your game if your money management techniques allow another trade in Bitcoin.