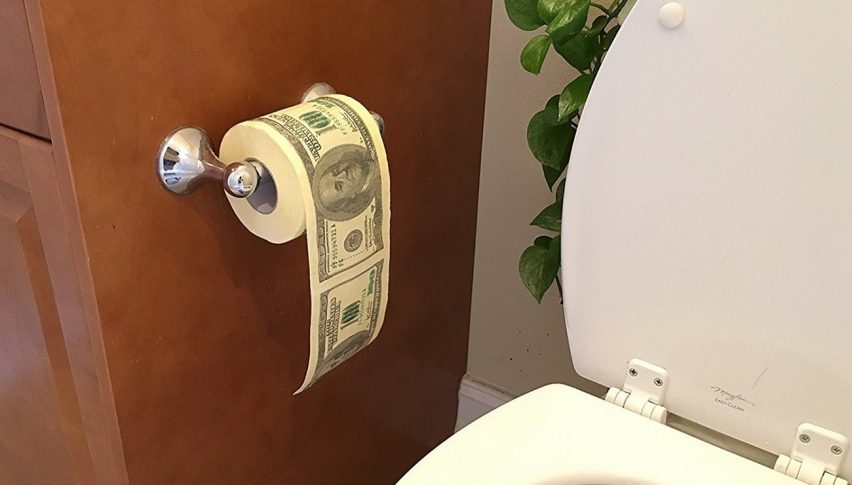 Forex Signals US Session Brief, January 24 – Give the Dollar A Break
That's where the USD has ended up now
The dark times never seem to end for the US Dollar. It has been thrown into the sink during last year and now it is being flushed down. Donald Trump wanted a weak Dollar when he came in; he got what he wished for. On a positive note, cryptocurrencies have formed a bullish chart setup and they are climbing higher today.
Another Terrible Day for the USD
Another day at the office for USD traders, another headache to suffer. Mnuchin said this morning in the Davos summit that a weaker USD would be welcome. To imagine that I have been calling him Munchin all this time. On my defense, who has heard such a name before?
Anyway, those comments have been weighing on the Dollar during the London session. EUR/USD finally broke the 1.23 level and it is now heading towards 1.24.
But, the GBP has benefited the most during this time. GBP/USD is nearly 200 pips higher from yesterday. Although, the Brexit rhetoric has also been a factor in this surge in GBP/USD. This forex pair broke 1.40 today and 1.41 altogether.
But overall, it is plain USD weakness. USD/JPY broke below 110 as well, so the big support level is gone now. The next one comes at 108 but with the way the USD has been falling, 108 doesn't seem so far.
When will this madness end? Who the hell knows. The US economy is great but the Dollar is sick. The market has come to terms with Trump and it has accepted that it must be lower. So, it's not the market forces which are driving the forex market, it's just politics. Hopefully the tide will shift when the new FED chief will take the chair.
Cryptocurrencies Are Trying to Follow Through Yesterday's Bullish Chart Setup
Yesterday, cryptocurrencies were showing signs of a reversal. In the morning, the picture wasn't that great as Bitcoin dipped below the $10,000 level briefly. But, in the afternoon we saw a pretty swift reverse.
Bitcoin bounced from that level and it climbed about $1,500 in the next few hours. This means that the $10,000 level has established itself as a major support area. These support and resistance areas have a major buffer zone around them, so it is not considered as a break unless the daily candlesticks close considerably past them, below or above.
Although, the biggest bullish signal for cryptos, was the daily candlestick. Yesterday, the candlestick closed as a doji in most major altcoins. As we have often mentioned, a doji is a reversing signal, particularly when it forms right above a major support level.
As you can see from the daily Bitcoin chart below, the price formed a doji yesterday just above the big support level at $10,000. Another bullish sign for Bitcoin is the 100 SMA (green). The sellers have had pushed the price below it quite a few times, but it has never closed there, it has always come back up to end the day above.
So, there are many bullish signs and today cryptocurrencies are trying to follow through that bullish chart setup. They are trying to push up, but the push is still too weak in my opinion. We have to take out yesterday's high and break a few moving averages on the lower timeframes for the uptrend to resume and hopefully gain pace.
After a doji must come a bullish candlestick
Trades in Sight
Bearish USD/JPY
The trend is strongly bearish
The 110 support level has been broken
The downtrend is gaining more momentum

That big level should provide resistance now
Yesterday, we had a bullish bias for this pair since the support at 110.50 had been holding for a few days. But, today the Buck is falling through a pocket hole, so we have to acknowledge that. I wouldn't sell this pair right now though, I will wait for a retrace higher, probably close to 110 and then I will try to get a sell forex signal going.
In Conclusion
These days are damn difficult to trade. You might want to follow the trend, but it might be already too late. You might as well try to buy the Buck hoping for a reversal, but would you want to go against such a strong trend? So, be careful out there guys and stick to crosses. We picked EUR/GBP and EUR/CHF to trade today and it is going pretty good.