AUD/USD Is Trying to Lure Us into A Trade
The USD went through a major air pocket yesterday, with the decline stretching further in the early hours of the morning. Most Forex majors are now going through a long overdue retrace period.The chart setup in AUD/USD has grabbed our attention- it has been retracing lower on the H1 chart, and it looks as though the retrace down is almost complete.
The retrace is more prominent for NZD/USD, which looks like a better opportunity to go long. Yesterday, fundamental events in New Zealand altered the situation from NZD pairs. We will have a look at the NZD in the next update.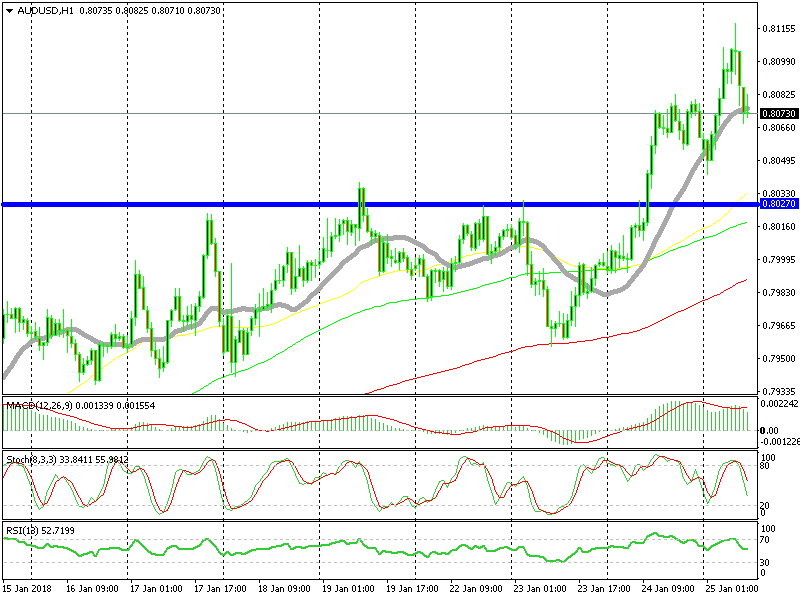 AUD/USD is finding support at the 20 SMA
For now, the chart setup in AUD/USD is looking good for buyers. This Forex pair has been trading in an uptrend, which has picked up pace over the last couple of days. We are now retracing lower, and it looks like the retrace has run its course.
We have met the 20 SMA (grey) on the hourly chart. It hasn't been the strongest technical indicator out there, but it provided support last night, and is providing support again now.
The stochastic indicator is almost oversold, meaning that the retrace on this timeframe chart is almost over. The area around 0.8030 is a good place to go long from. It used to be resistance, and is likely to turn into support. The 50 and 100 SMAs can also be found there, however, the reverse is already taking form here. We may open a buy forex signal any time now.