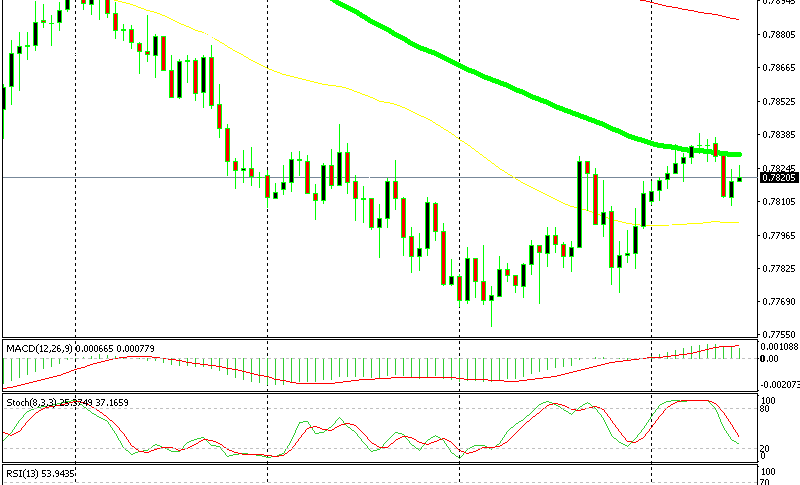 How Has Our AUD/USD Signal Evolved Since Last Night?
Last night I was looking at forex and commodities charts. I spotted something in Nikkei, but I will post the Nikkei chart on the next update. I also spotted something interesting in AUD/USD which persuaded me to open a sell forex signal. Let's see what the charts were telling me.
The H1 Chart Setup
The 100 SMA did provide resistance this morning
As you can see from the chart above, the trend was bearish last week. Although, by Friday evening, the price was retracing higher, which followed through last night as well. The price was approaching the 100 SMA (green) which was supposed to provide resistance.
It did provide resistance on top this morning, so that's a good sign for sellers. We are AUD sellers today since we opened a sell signal on this pair last night.
The H4 Chart Setup
The 200 SMA is capping the retrace again today
I also looked at the H4 chart; we have to look at different timeframe charts before taking a trade, so we can know all possible scenarios. The H4 chart was also becoming overbought since the stochastic indicator was approaching the ceiling of the window.
It became overbought this morning, although, the strongest bearish indicator was the 200 SMA (purple). This moving average provided support on the way down early last week. It turned into resistance after being broken to the downside and we opened a sell signal last week based on this indicator. That signal closed in profit, so hopefully, this one will hit TP too.
AUD/USD has been making strong gains this week, with the RBA helping the bullish case, but buyers are facing the 200 daily SMA now
1 day ago