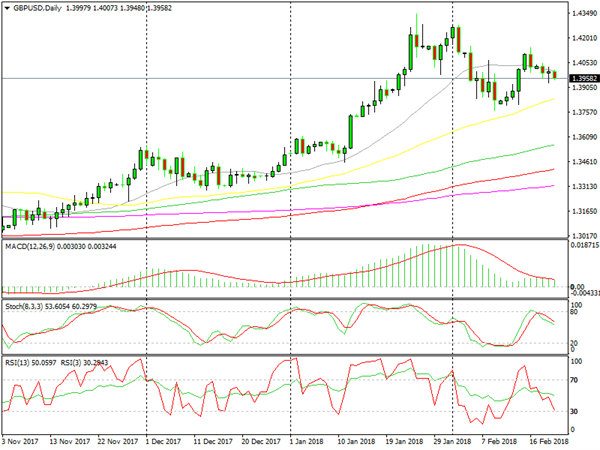 UK Data Wages Determining GBP Shortly
Posted Wednesday, February 21, 2018 by
Skerdian Meta
• 2 min read
Yesterday's candlestick appears rather bullish
The GBP has been attempting to make a decision these last few weeks. The GBP/USD made a decent surge in January and broke well above 1.40, but gave back most of its gains and fell below 1.40 again in the first two weeks of February.
The USD had a tough time last week, which gave this forex pair another boost, sending it above 1.40 again. That didn't last long though when the US Dollar reversed and the GBP/USD fell below 1.40 once again.
Yesterday the pair kept fluctuating and in the end, it settled at 1.40.
The Psychological Situation
The psychology behind this price action is that forex traders got inspired by the possibly soft Brexit. Together with the weakening Dollar, it sent this pair from the 1.30s to 1.40s.
We approached the pre-Brexit levels at the end of January, which proved to be far off causing traders to be unsure whether to hold their buy trades or reverse on this pair. The Brexit events that keep coming are not helping as well.
The Economic Data
The UK average earnings index (wages) are soon to be to be released, and can hopefully give the GBP and this forex pair some direction today as the economic data turned cold recently. This is a leading indicator that gives us a glimpse of what's to come for retail sales and consumer inflation in the coming weeks.
After moving higher from 2.2% in the previous two months, the growth in wages has been steady now at 2.5%. If they stay at this level, it would be one less thing for the Bank of England to worry about.
If the numbers turn out to be negative, then the GBP/USD may begin to go downward. A negative number would then remove the fear that inflation is running away and can send this pair tumbling. We're keeping an eye out for the data and will be published shortly.