Forex Signals US Session Brief March 6 – Risk Assets Rally as North Korea Makes A U-Turn
North Korea has just made a sudden turnaround on their "Great Politics" a short while ago and the market is starting to move. Risk assets such as commodity dollars and Gold are rallying, while safe haven assets such and CHF and JPY are tumbling. The cryptocurrencies have also turned bearish today, so the larger bullish trend of the last month is starting to look weak now.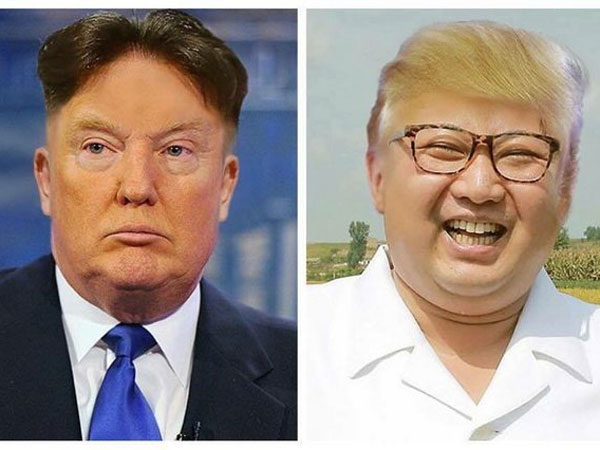 They are both messing with markets, guess who's who
Commodity Dollars Up, Safe Havens Down on North Korea
Fundamentals are in full swing, taking the financial markets into their hands now. Earlier today we had the European Commission said that the EU has the right to take retaliatory measures on US products, such as Jeans, Harley motorcycles, cosmetics, boats as well as agricultural products. That comes after Trump's tweets about US tariffs on Steel and Aluminium.
The market sentiment was starting to turn negative and the JPY was receiving some bids. But, USD/JPY made a sudden reversal higher and so did the commodity dollars, which are risk currencies.  That means that the market buys these currencies when it feels like taking risks.
When I saw the jump, I thought that Trump had posted another tweet where he apologized for all this mess. Well, we know Trump never apologizes so that wasn't the case this time.
The move came from North Korea (NK). NK sent a delegation to South Korea and they are talking about denuclearization. Where the hell did this come from? Up to a few weeks ago they were threatening the world and trying nukes around north Pacific. Now they are going all soft. What the hell happened?
I bet they are all trading forex, Donald Trump, Kim Jong Un. Theresa May, you name it. They make a trade, then they make a comment which gets the market rolling and later book the profit. It's easy to make money when you have power, isn't it?
But, they're doing what they are doing because they don't know what they're actually doing, honestly. A right-wing politician like Trump who imposes barriers? An anti-Brexit Prime Minister that leads the Brexit process, making a mess of it? Kim Jong Un? No need to mention anything about Kim, is there?
It looks like teenagers have taken over the world and the financial markets don't know what to do, one session safe havens rally strongly on Trump's tweets, the next, they get battered on North Korea. That's what trading forex has come up to these days.
Cryptocurrencies Don't Look so Bullish Today
Yesterday we talked about Bitcoin and how it looked all bullish at the time of writing. Last week's candlestick seemed pretty bullish and it closed above the 20 SMA on the weekly chart. That moving average used to be strong support last year, then it turned into strong resistance this year. So, closing above it was a bullish sign.
But, cryptocurrencies don't look so bullish today. I did mention yesterday in the midday brief, that the last obstacle for buyers was the high from two weeks ago at $11,730s. They had to take that level out so the bullish trend entered the next phase.
But, today is a different story. Cryptos have turned bearish without notice and Bitcoin has lost around $800 form the highs yesterday. As you can see from the daily chart below, Bitcoin reversed right at resistance.
Yesterday's candlestick formed as an upside down pin. That's a reversing signal after an uptrend. The stochastic indicator is overbought as well and today's candlestick looks really bearish. So, cryptos might be entering a bearish phase now.
This looks like a double top, but it's too early to tell.
Trades in Sight
Bearish USD/JPY
The trend is bearish
The buying has now stopped
The 100 SMA is providing resistance
The last hourly candlestick looks bearish to me
USD/JPY has been trading on a bearish trend for quite some time. It made a retracement up last night, but the sellers returned. In the last two hours, we saw another spike higher which came after North Korea comments, but it seems like the buying has stopped now. So, the downtrend is resuming again.
In Conclusion
Everything is going haywire now. North Korea is spicing things up again, so don't get caught in the middle of this, trade with care. Also, keep an eye on Donald Trump's twitter because chances are that he will try to get back at EU threats about retaliation, that's the kind of guy he is.