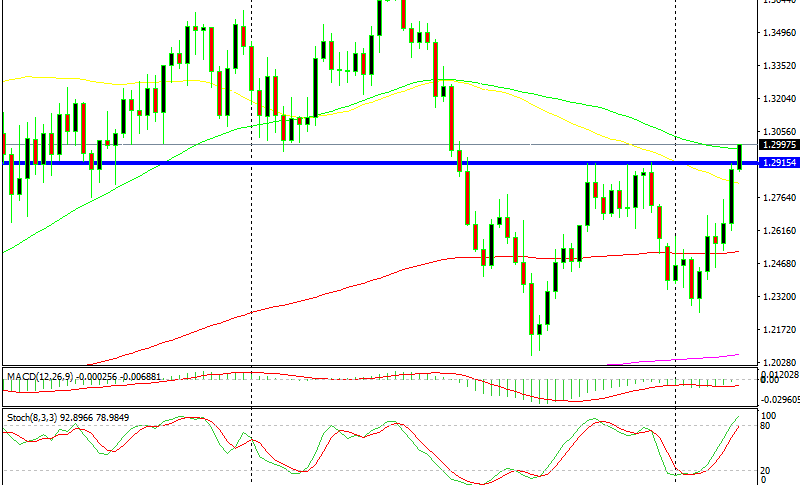 Nothing Can Stop the USD/CAD Train Up North
Last Friday we posted an update about the uptrend in USD/CAD. This forex pair reversed higher at the beginning of February after having lost nearly 700 pips in the previous 5-6 weeks. The reverse was quite strong and USD/CAD closed the month at 1.2830s.
So it was a total reverse. Such reverses point to more upside and that's what happened as soon as this month began. This pair started climbing again and last week closed just below 1.29, after having touched the major resistance level at 1.2915.
1.30 is next in line for the bulls
That level has provided resistance from October to December. After that, came the big decline. So, that was a big level. But with the sort of price action that we saw in February, it was a matter of time before it got broken. Today the price drove through it like knife through butter.
Crude Oil had a bullish day today, but the CAD went down the sink nonetheless. Trump's tweets about tariffs on Steel and Aluminum are hurting the Canadian Dollar at the moment. When fundamentals take over, the technicals can't do much.
We have broken above the 100 SMA on the weekly chart and we're just a couple of pips below 1.30. But, it won't hold, not for too long. So, the Cad is very bearish at the moment and this pair is extremely bullish. Our plan for this pair is to wait for pullbacks lower and buy at support. Follow our signals for trading opportunities in this pair.
USD/CAD continues to slide lower, although it stalled to the bottom of the range earlier, after the dive on the 25 bps hike by the BOC
2 days ago
Crude Oil has been bearish for more than a year, but this week we saw a decent reversal higher on higher Caixin manufacturing
6 days ago