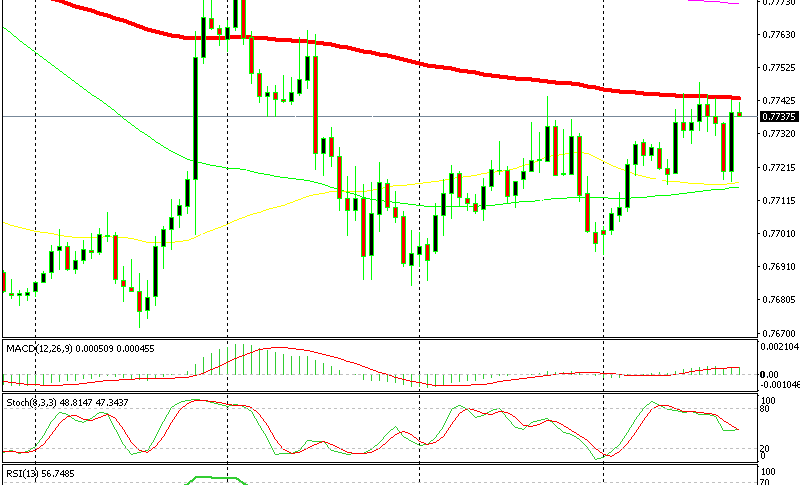 Playing the Short Side on AUD/USD as the USD Gets Another Kick
In the midday forex brief, we highlighted the USD weakness that we have seen so far today. Although, in the last few hours, the USD has been trying to get back on its feet as it began to reverse.
The reverse did not last long and the USD was kicked down the road again in the previous hour. EUR/USD jumped 40 pips in an hour while commodity dollars claimed back the losses of the last few hours.
We had a sell forex signal in AUD/USD which we opened at the 50 SMA on the H4 chart or the 100 SMA on the hourly chart. We closed that signal manually at the 50 SMA on the H1 chart so we have already made some profit from this pair.
The 100 SMA is doing a good job as resistance
Now, price is back up where it was when we opened the first signal on AUD/USD, so we decided to play exactly the same game. We opened another sell signal a few minutes ago.
The 50 SMA is still standing at the same place on the H4 chart and is providing resistance again. But we decided to post the H1 chart this time. Instead of the 50 SMA, here we have the 100 SMA (red) which is doing the job of providing resistance on top. Buyers are having second thoughts at these levels again, so I think that we will have another winning signal on this pair.