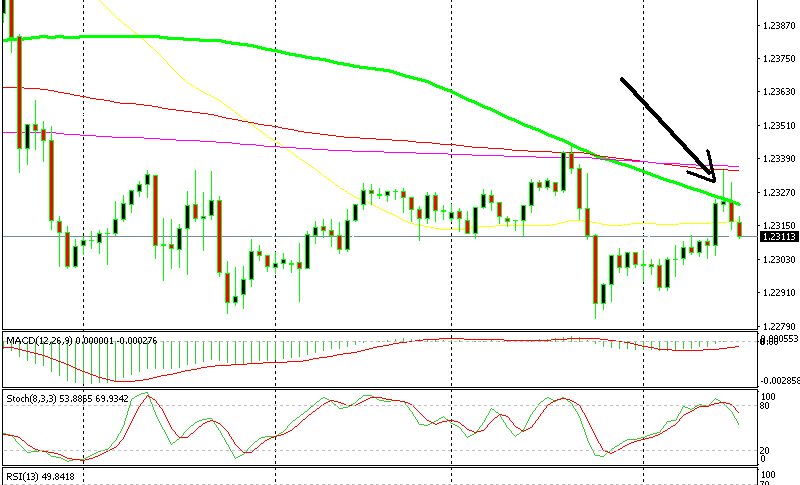 Going Short on a Bearish Formation in EUR/USD
We just went short on EUR/USD. If you're following our forex signals, then you should have received an alert for this signal. We missed the opportunity to sell EUR/USD yesterday and didn't want to miss another one, so we took our chances.
As we said in one of our forex updates yesterday, this forex pair has been trading in a range since last Thursday. The top of the range has been around 1.2330s which we reached a couple of hours ago but couldn't move above it. That was the first bearish sign.
The doji is a great reversal indicator
The other bearish sign is the doji candlestick two hours ago. The price formed a doji which is a reversing signal, especially when a forex pair is overbought.
EUR/USD was overbought two hours ago since the stochastic indicator was overbought. That doji candlestick, was followed by a bearish candlestick which strengthens the case for sellers, so we decided to join them.
If you switch to the H4 chart, you can see that the 100 SMA is standing at 1.2330s. So, that moving average is strengthening the resistance on top. Now EUR/USD is really turning bearish. It looks like this pair might make the next leg of the downtrend today, breaking below the bottom of the range. Even if it doesn't, our forex signal will reach take profit before reaching the end of the range.
Risk assets tumbled lower this week, as bank problems escalate, although there was a slight improvement toward the end of the week
2 days ago