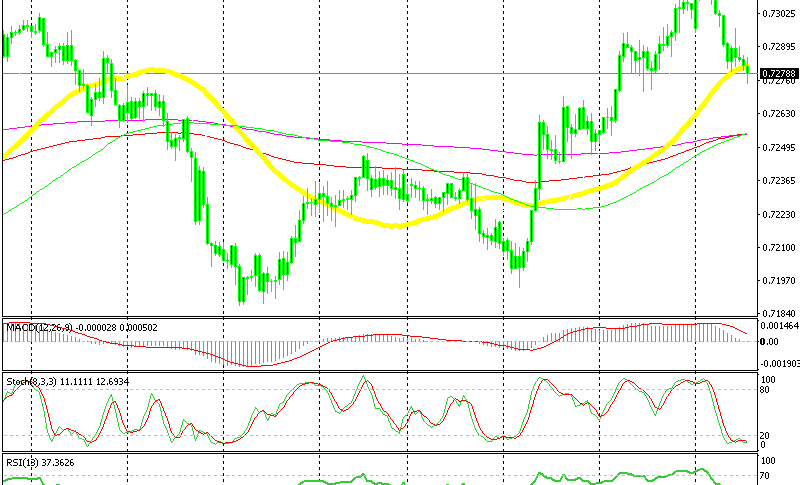 A Simple Trade on NZD/USD
We just opened a forex signal in NZD/USD. We had a good run with forex signals in the last couple of days so the history board is all green and the signals section is clear, so we decided to buy NZD/USD since the chart setup looks sort of bullish.
It was a straightforward trade and often it is these trades which are the easiest and most successful. Let's have a quick look at the trade setup.
The retrace down seems complete
As you can see from the hourly chart above, NZD/&USD has been trading on an uptrend in the last two days. It has climbed from 0.72 to 0.7320s. That's quite a climb so we can say that the uptrend has been pretty steep.
Although, today we are seeing this pair make a retrace lower. NZD/USD has dived back below the 0.73 level. It is trading at the 50 SMA (yellow) at the moment. We think that this moving average will provide support despite being pierced by a few pips.
The stochastic indicator is also oversold which means that the retrace down is complete. But, the main indicator for us is the trend which is bullish. It's three indicators which are pointing up at the moment, so hopefully the uptrend will resume soon.
Durable goods orders showed a 0.2% increase in August, against -0.5% expected and July's -5.2% decline, which was revised to -5.6%
21 hours ago