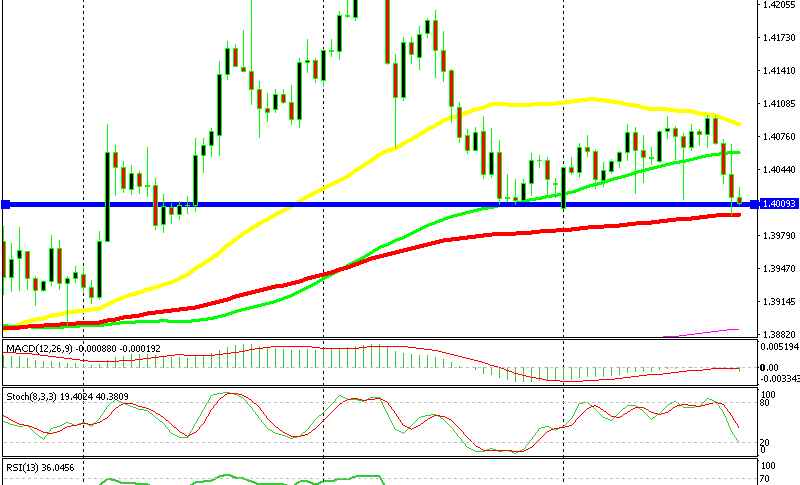 Deciding Time for GBP/USD
GBP/USD has been trading in a 100 pip range for about a week or so. The top of the range has been defined by the 50 SMA (yellow) which stands at around 1.41, while the bottom of the range comes at around 1.40.
Yesterday, the sellers had a go at the downside after the terrible construction report, but they gave up near the bottom of the range. The price moved back up at the top of the range in the afternoon, but the 50 SMA didn't give way to the buyers.
GBP/USD started reversing down again this morning before the UK services report. This report was pretty bad as well, although it didn't show contraction like the construction sector that we saw yesterday.
Although, this report is more important since services account for 4/5ths of the UK economy. So it has a bigger impact on the GBP, which we can see on GBP/USD.
The 100 smooth MA is providing support now
This pair lost around 100 pips again today, fuelled by the services report as well. It fell to 1.40, exactly to the pip. But, the 100 smooth moving average (red) has moved higher during this time and it comes at 1.40 too. It provided support on the first attempt and the price has pulled back some 20 pips at the moment.
Although, GBP/USD is not that far from the lows, which means that it came come back down pretty quickly. So, this is a deciding time for this pair. I have this feeling that the support level will be broken soon, probably today, but the 100 SMA (red) must go first. The trade would be to sell the break, so I'm following this pair closely.