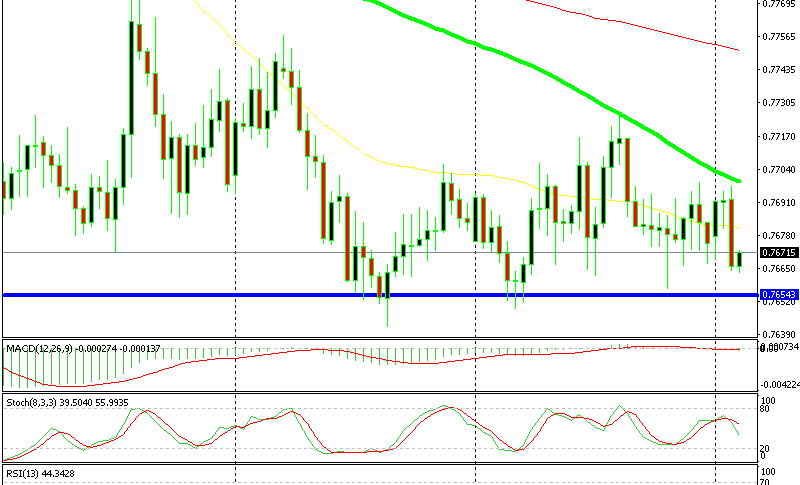 AUD/USD Making the First Move Today
Today is the Monday after the Easter weekend. While the economic calendar shows that Europe is back at work, the market is very quiet since this is the Orthodox Easter weekend. So, most of the forex pairs have been trading in very narrow ranges today.
The extremes of the range in USD/JPY have been only 30 pips apart today, which is a far cry from the volatility that we have recently seen in this pair. This forex pair has bounced off the 100 SMA on the H4 chart, which seems like the beginning of the next leg of the uptrend, although we will post another forex update about this pair.
GBP/USD has made a 30 pip move as well so far. The range has been similar in NZD/USD which has been on a small bullish run this morning. That's good for us since we have a buy forex signal in this pair. The price got close to the take profit target and it is aiming at it again now, so we're waiting to get our pips first.
AUD/USD has been the biggest mover so far today. The price got close to the 100 SMA (green), or I better say that the 100 SMA got close to the price on the H4 chart as it continues to move lower. This moving average has provided resistance last week and it has done so before as well. Forex traders know that, so they started selling AUD/USD when this moving average got close to the price.
The 100 SMA pushed AUD/USD lower again
This makes AUD/USD the biggest mover today since it has lost more than 40 pips. At the moment, this pair is near the bottom of the range. I'm not going long from here even though the sellers seem to have paused. I will wait for a retrace higher, and maybe go short on AUD/USD if the chart setup starts looking bearish again.